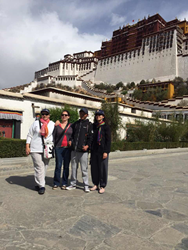 If you have 2 to 8 people already and want to travel Tibet, Tibet Ctrip Travel Service is the best choice for you!
Lhasa, Tibet (PRWEB) June 07, 2015
Private Tibet travel tours are one of the best ways for family and friends to enjoy a get away-from-it-all experience that traverses one of the most magnificent and mysterious places on Earth. While some may initially find all of the details involved with planning a tour to be daunting, traveling in Tibet is easy with private tours by Tibet Ctrip Travel Service-TCTS (http://www.tibetctrip.com). To help travelers visiting during 2015 begin planning their tour, TCTS shares some of the most popular options.
Lhasa-Namtso-Shigatse: This 7-day tour is great for culture-focused travelers looking to do some easily paced sightseeing. The Tibet tour group will begin in Lhasa where they will enjoy an introduction to Tibetan culture and history as they acclimatize to the altitude. Next, the tour heads for Lake Namtso before making its way towards Gyantse and Shigatse to explore temples and monasteries.
Ganden-Samye Trekking tour: Travel groups willing to trade in comfort for scenery that most miss out on will love the trek from Ganden Monastery to Samye Monastery. In addition to the four-day Tibet trek, travelers will have plenty of opportunity for sightseeing and learning about Tibet.
Lhasa-Manasarovar-Kailash: This fantastic journey is ideal for those seeking an in-depth experience that exposes them to life in remote areas of Tibet. Over a minimum of two weeks, travelers will experience a large section of Tibet as they travel from Lhasa to Mt. Kailash, located in Tibet's far westernmost region of Ngari.
On a private Tibet tour with Tibet travel agency, TCTS travelers can enjoy their experience without worrying about details and logistics; experienced native Tibetans who are passionate about sharing their homeland guide all adventures. Also, keep in mind that itineraries are completely customizable to the needs and interests of each travel group. Visit http://www.tibetctrip.com for ideas and inspiration. Now that the travel season is upon us, it's time to start planning!