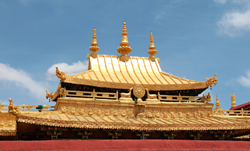 Travel to Tibet with TCTS is easy and fun!
Lhasa, Tibet (PRWEB) May 14, 2015
With travelers around the world planning their tours of Tibet and loads more expected to follow suit many travelers are finding it easy to get bogged down in the details of planning a tour. Tony of Tibet Ctrip Travel Service-TCTS (http://www.tibetctrip.com) has been operating in Tibet for over 12 years and shares updated travel tips to make the process easier in 2015.
When getting started it's important to focus on the travel group's needs, interest, and budget then use this to decide which kind of tour to book. If traveling with the whole family an easy paced sightseeing tour may be best while outdoor enthusiasts may enjoy a multi-week Tibet trekking tour. Recent damage from the Earthquake in Nepal has led to the temporary closure of Everest Base Camp; keep this in mind if the group is planning on visiting within the next month or two.
The next step is to begin searching for a Tibet travel agency that supports the specific kind of tour the group is looking for. Make sure the group does its due diligence; not all travel agencies are of equal quality. The experience during the booking process is likely indicative of the experience travelers will have on the tour. Recently, more reviews have been surfacing on popular travel sites such as Trip Advisor. These sites are great for vetting out potential tour operators.
All the details involved in planning a tour can be a bit intimidating at first. Once travelers have decided on the kind of tour they'd like to do it's best to invest lots of time in finding a quality Tibet tour operator. An experienced travel professional can help guide travelers through the rest of the planning process. Now that the 2015 travel season is here it's time to start planning.