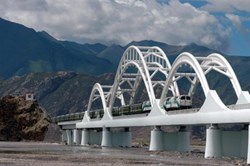 Qinghai Tibet Railway travel is amazing, but you need to plan a right time with Tibet local tour agency.
(PRWEB) November 19, 2013
Since 2006 Qinghai Tibet Railway travel has become popular for travelers around the world. The astounding landscapes travelers will witness along the way are simply unrivaled. Passengers on the new railway will see majestic mountain scenery and nomad life on the Tibetan Plateau, all from the comfort of a train car. To help travelers plan their trip coming up in 2014, local Tibet travel agency Tibet Ctrip Travel Service-TCTS (http://www.tibetctrip.com) has released a few new travel tips:

The highest point on the railway is at 5,231 meters (17,162 feet) at Tanggu Pass. Oxygen is available onboard for passengers who may have trouble adjusting to the altitude. While passengers will acclimatize to Tibet's altitude more easily on the train than arriving by plane, the train still makes a rapid ascent into a high altitude environment. Travelers are advised to rest and relax once they arrive in Lhasa in order to fully acclimatize. This will help ensure their Tibet travel experience goes smoothly.
The best part of the journey is from Golmud to Lhasa. Passengers will have views of the Qinghai-Tibet plateau where they can gaze out the window at the nomads that roam the expansive plateau.
The train is climate controlled; however, it is always a good idea to bring any clothes or personal items necessary to remain comfortable. This includes hygiene items and toiletries. Also, bring enjoyable calorie dense snacks; food available on the train might not be suitable for every traveler.
Train tickets go on sale only about three weeks before the departure date; this introduces a degree of risk in planning a Tibet tour that includes a ride on the Qinghai-Tibet Railway. Because of the high volume of passengers, Tibet Ctrip, nor any other travel agency, can guarantee that tickets will be available. To minimize risk, it may be a good idea to plan on departing Tibet by train. In the high season, tourists may want to plan on taking the train to Xi'ning where they can fly to a variety of other cities in China.
To make train ticketing easier and have cheaper service charge, It is good to plan train travel into Lhasa for the month of April, May, June, September, October, November and December. TCTS helps travelers get train tickets either to or from Lhasa. However TCTS travel agent does not suggest travelers to plan train travel to or from Lhasa in July and August time.
Riding the Qinghai Tibet Railway is certain to be an experience that travelers are not soon to forget. Making reservations for train travel in China and Tibet is much different than many western countries so travelers must be flexible. Due to high passenger volume, tickets cannot always be guaranteed. Flexible travelers will find taking the train to be a wonderful experience that provides many opportunities to meet people from all over China and Tibet. Tibet Ctrip Travel Service is Lhasa based and reliable Tibet tour agency. To plan a Tibet travel 2014, tourists can start to get initial information now.