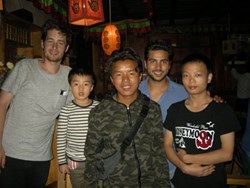 Tibet local travel agency welcomes tourists from USA!
(PRWEB) August 17, 2013
Over the 2013 Tibet travel season many Americans have made the trip from the US to Tibet. Fascinating cultural sites and dramatic mountain landscapes have skyrocketed in popularity among American travelers with the development of a modern tourist infrastructure. Travel agencies like Tibet Ctrip Travel Service-TCTS (http://www.tibetctrip.com) help travelers experience some of Tibet's most popular destinations; making for an easy and unforgettable vacation.
The tour planning process often begins with travelers taking time to learn about what Tibet has to offer. Some travelers are interested in learning about culture and history while others may be looking to take on a challenging Tibet trekking adventure. Taking time to research destinations and the different kinds of tours available is typically the best way to make an informed travel decision. Experienced travel professionals at TCTS are always more than happy to offer suggestions and answer questions.
Coming to Tibet is a long trip for American travelers making it important to take full advantage of their time. Those looking to experience as much of Tibet as possible may be best off on an overland tour; while the destinations themselves are stunning, travelers get to experience the scenery in between. Opportunities for trekking or mountain biking abound while traveling in Tibet and interesting cultural experiences are around every corner.
There are a variety of arrival options although the quickest and easiest way is by air. Daily flights arrive from Mainland China and flights from Kathmandu come 2-3 times a week. Other options include coming overland from Nepal or riding the Qinghai-Tibet railway to Lhasa. Travelers must arrive via Mainland China or Nepal; the travel group's guide will be waiting at the airport, border, or train station.
Exploring such a unique place is a rewarding experience for many American travelers. Travel in Tibet is drastically different than the west giving its visitors opportunities for cultural discovery and high altitude adventures. TCTS takes care of travel arrangements such as transportation, guides, and accommodation allowing travelers to put their minds at ease and take in the beauty. Autumn in Tibet is a fantastic time for travel and travelers are advised to start planning now.
Devin Moore, author of this release, is a travel writer and independent economic analyst based in Denver, Colorado USA. In partnership with local Tibet travel agency TCTS (tibetctrip.com), Devin publishes Tibet travel related information in order to spread awareness of Tibet and its people.