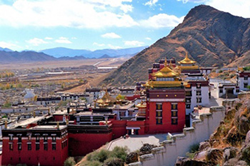 Have more authentic Tibet culture tours with www.tibetctrip.com.
Lhasa, Tibet (PRWEB) February 08, 2015
Lhasa based Tibet travel agency Tibet Ctrip Travel Service-TCTS (http://www.tibetctrip.com) will be operating new and improved Lhasa cultural tours in 2015. Whether on a tight schedule or looking to experience Tibet on a budget, in just four days travelers can visit some of the most famous Tibet attractions and catch a glimpse of its natural beauty. Marketing and sales manager of TCTS, Tony Yang, let's travelers in on what they can expect.
Day 1: Arrive in Lhasa. The group's guide will meet them at the airport or train station and accompany them back to Lhasa. Once settled in at the hotel make sure to rest, relax, and drink lots of water; many will have just arrived from much lower altitude places and TCTS doesn't want travelers to feel sick or fatigued on their first day of sightseeing.
Day 2: Today the Tibet tour really gets started! While the exact itinerary can be arranged to travelers liking most begin with a visit to Potala Palace. After, it's a 20 or so minute walk to Jokhang Temple. Prepare to be awed; these are some of the Tibetan People's most important cultural assets.
Day 3: More sightseeing today. Travelers can choose between a day trip to Lake Namtso or visiting places such Norbulingka (summer palace of the Dalai Lama), Sera Monastery, and the Drepung Monastery (home of the debating monks). Interested in one of Lhasa's other famous sites? Don't hesitate to ask about customizing your tour of Tibet.
Day 4: Depending on travelers departure time there may be additional time for sightseeing before heading to the airport of train station. The group's guide will see them off at the shuttle stop.
TCTS makes it quick and easy for travelers to learn about Tibet's culture and history. Groups looking to keep costs low are encouraged to ask about budget travel options. After a quick stop in Tibet, Kathmandu and popular destinations in Mainland China are at travelers' fingertips. With the Tibet tour season coming up soon travelers are advised to start planning their visit now!