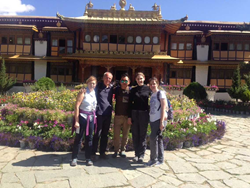 If you are wanting a family tour of Tibet, Tibet Ctrip travel service is the best one to choose!
Lhasa, Tibet (PRWEB) July 02, 2015
Now that the Tibet travel season is coming into full swing family friendly Tibet tours have been in high demand at Tibet Ctrip Travel Service-TCTS (http://www.tibetctrip.com). Follow up surveys suggest that many are looking for an easy travel experience that allows them to get away from the hustle and bustle of modern life. With a wide array of enriching activities available, families can enjoy a get a way from it all experience that also broadens cultural horizons and awareness of earth's natural beauty. TCTS discusses what travelers can expect.
Most prefer to begin their trip in Lhasa, especially after a devastating earthquake struck Nepal earlier this year. All necessary travel permits will be taken care of before arrival; if coming from Mainland China the travel group will need to supply an address (such as a hotel) for the permit to be sent. It will be required for boarding trains and planes to Lhasa. For most families, the quickest and most hassle-free way of arriving is by air.
One of TCTS's native Tibetan guides will be waiting at the airport to accompany everyone to their hotel in Lhasa. It's important to rest and stay well hydrated in preparation for sightseeing the next day, the change in altitude can sometimes take visitors by surprise. An easy paced sightseeing tour that explores places like Lhasa, Shigatse, and Gyantse are great for those looking to avoid extended car trips, while those looking for a more immersive experience can even go as far as Mt. Kailash.
TCTS takes care of everything from guides and hotels to transportation and travel permits, making travelling in Tibet an easy experience; families won't have to worry about logistics and other small details. All itineraries are completely customizable to each group's needs and interests; visit http://www.tibetctrip.com for ideas and inspiration. With the 2015 travel season wearing on, now is the time to plan a family tour of Tibet!