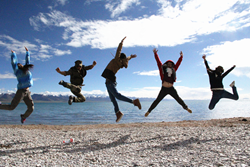 If you have any questions on traveling in Tibet, just feel free to contact Tibet Travel Org CITS for free consulting services.
Tibet (PRWEB) May 06, 2014
Tibet is a uniquely attractive, but relatively remote tourist destination. Travelers always have many questions before starting a trip to this place. Recently, Mr. Kunga, a senior Tibetan tour guide of Tibet Travel Org CITS, answers top ten most frequently asked questions about traveling to Tibet. His answers give tourists a general idea about how to plan a trip to Tibet.
1. How and where to apply for a Tibet Visa or Permit?
Answer: Tibet Visa or Permit is issued by Tibet Tourism Bureau, but travelers must apply for the permit through an authorized travel agency. Travelers submit scanned copies of their passports, Chinese visas and other required documents to the travel agency, which submits the documents to the tourism bureau to apply for the permit.
2. How to avoid high altitude sickness?
Answer: In fact, not all tourists will suffer from altitude sickness in Tibet. It is best to spend a day or two at a lower altitude for acclimatization before continuing to higher places, like Everest Base Camp. During the first two days in Tibet, please do not drink any alcohol, take a shower or do strenuous exercises. Taking a good rest is the best way to acclimatize high altitude.
3. Which is the better way to travel to Tibet, by train or by air?
Answer: Many travelers said that traveling to Tibet by train made their trip more interesting. The scenery along the railway is awesome. The railway itself is a great man-made wonder. In addition, one can save as much as 40%-50% money compared with flying to Tibet. Of course, by air is the easiest way. Which one is better depends on travelers' schedule and budget.
4. What is the best time to travel to Tibet?
Answer: April to October is widely regarded as the best time to visit Tibet. Spanning over one million square kilometers, Tibet is dotted with hundreds of tourist sites, both natural and cultural. It presents different highlights in different seasons. For instance, winter and spring are the least-cost seasons and also the best time to view snow mountains, Mt. Everest in particular. Hence, what's the best time to visit Tibet depends on each tourist's interests and what is their major consideration.
5. Are tour guides in Tibet Han or Tibetan?
Answer: All the tour guides in Tibet Travel Org CITS are local Tibetans. They were born and brought up in Tibet, and naturally know Tibet very well. Some of them learned English in college or abroad, so they speak fluent English.
6. Which places are recommended to first-time visitors?
Answer: For those traveling to Tibet for the first time, it is advisable to visit Lhasa before moving on to Shigatse, Everest Base Camp or Kathmandu. This way, they can visit most famous tourist sites, like Potala Palace, Yamdrok Lake and Mount Everest.
7. What are the hotels in Tibet like?
Answer: Generally speaking, the accommodations in Tibet are not as good as those in many other tourist destinations. Star-rated hotels are only available in big cities like Lhasa and Shigatse. In small towns and remote areas, the conditions are very simple.
8. Can travelers enter Tibet from Nepal?
Answer: Yes. Every year, many foreigners travel to Lhasa from Kathmandu by air or overland. But they need to arrive in Kathmandu at least two working days in advance to apply for Tibet visa.
9. Is it possible to travel in Tibet independently, or must foreigners be accompanied by a local tour guide?
Answer: It is understandable that many tourists prefer an independent tour. Unfortunately, it is currently impossible in Tibet. Local government requires all foreigners to be guided by a licensed tour guide during their whole trip in Tibet.
10. Is it possible to travel in Tibet without Tibet permit?
Answer: Tibet permit is a must-have document to board a train or aircraft to Tibet. There are also many checkpoints in Tibet, where travelers are required to show the permit. Without it, they may be deported immediately.
About Tibet Travel Org CITS
Tibet Travel Org CITS (http://www.tibettravel.org), the top online Tibet tour operator, annually sends more than 1,000 individual travelers and over 100 tour groups to Tibet. It helps travelers to obtain the Tibet Travel Permit, book air/train tickets to Tibet and customize their tours. The company also keeps travelers updated on latest Tibet information on Facebook (tibettravel.org) and twitter (@TibettravelOrg).