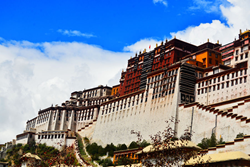 Travel to Tibet? Do not hesitate to contact Tibet Travel Org CITS. We will offer you the best services at the best prices.
Lhasa, Tibet (PRWEB) March 07, 2014
Shangri-La Hotels and Resorts, Asia Pacific's leading luxury hotel group, announced that its newly-built hotel in Lhasa would open on April 17 at its opening introduction conference held in Chengdu on March 6, 2014. Ms. Debbie Deng, the OP manager of Tibet Travel Org CITS, was invited to participate in the conference.
Set on a plateau soaring 3,650 meters above sea level, Lhasa is a magical city encircled by strong religious atmosphere and fabulous landscapes. Each year, this intriguing city attracts millions of visitors wishing to explore beautiful scenery and culturally significant world heritage sites, including Potala Palace, Jokhang Temple and Norbulingka. Shangri-La Hotel, Lhasa is located within walking distance to Potala Palace and Norbulingka. It is a 40-minute drive from Lhasa Gongar Airport and a 10-minute drive from Lhasa Railway Station.
Although there are hundreds of hotels in Lhasa, few are able to provide services as luxury as Shangri-La. It has built the first oxygen lounge to be found in a hotel in Lhasa. Travelers can relax and enjoy reflexology treatments there while overlooking the hotel's landscaped garden built by Tibetan craftsmen. In addition to the oxygen lounge, a spa, a fully equipped gym, an indoor swimming pool, and a complete clinic with professional staff are located onsite.
Some of its 289 contemporary rooms offer great views of Potala Palace. All rooms are equipped with complimentary Wi-Fi Internet access. Its modern décor is grounded in neutral colors and accentuated with the earthy reds, deep blues, and vibrant greens that are seen in traditional Tibetan dress. Traditional Himalayan accents such as turquoise stone, decorative metals, floral patterns and auspicious symbols complement the contemporary design. In-room services include authentic sweet tea served in Tibetan pots and turndown gifts such as hand-woven pouches made of yak fur.
The hotel serves Tibetan, Yunnan, Cantonese, Sichuan specialties and western food. In its unique restaurant Shambala, decorated with Tibetan style, travelers can also take in views of Potala Palace while enjoying authentic Tibetan food.
"With excellent services, our company enjoys high reputation and trust among our customers," Ms. Debbie Deng said. "In the past 13 years, we annually served over 1,000 foreigners. About 10% of them were high-end tourists. But there were few luxury hotels in Lhasa. The opening of Shangri-La Hotel, Lhasa enriches Tibet's high-end tourism products. We are confident to send more elite tourists to Tibet this year."
About Tibet Travel Org CITS
Tibet Travel Org CITS (http://www.tibettravel.org), the top online Tibet tour operator, annually sends more than 1,000 individual travelers and over 100 tour groups to Tibet. It helps travelers to obtain the Tibet Travel Permit, book air/train tickets to Tibet and customize their tours.