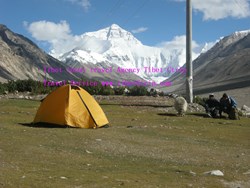 Where shall go when travelling in Tibet in 2014? What are the main tour attractions?
Lhasa, Tibet (PRWEB) November 09, 2013
Travelers who went on a 2013 tour of Tibet have been raving about the sheer number of destinations to choose from. However, Tibet is a big country with a diverse landscape and picking where to go and what time of year to visit can initially be overwhelming. To help travelers get started with planning their 2014 Tibet tour Tibet Ctrip Travel Service-TCTS (http://www.tibetctrip.com), one local professional Tibet travel agency discusses 3 destinations set to be this next year's most popular.
Mt. Kailash: This is a place held sacred by Hindus, Tibetan Buddhists, Jain, and Bon. Thousands travel to Mt. Kailash each year to cleanse their souls by making the ritualistic trek around its base. The trek takes three days and is a great opportunity to take in some of Tibet's high altitude scenery and learn about a variety of cultures. Located in the far western region of Ngari, travelers who make the trip here will enjoy seeing a wide cross section of Tibet.
Yarlung Valley: Legend has it that Yarlung Valley is where the Tibetan people originated from thousands of years ago. The green fertile valley, surrounded by towering mountains, is home to a number of historical sites such as Yungbulakang Palace (Tibet's first palace) and Tsetang (Tibet's former capital).
Everest Base Camp: This world famous destination is consistently among the most popular. Topping out at over 8,800 meters Everest is the worlds tallest mountain; for the best chance to catch a glimpse of its peak, schedule a Tibet tour for late April-Early May or September-October. Visitors can stay over night in one of the tent camps or make the four-day trek here from Old Tingri. Normally 6 to 9 days Tibet Everest Base Camp tour is fine and travelers can ask local agent to tailor make their tours accordingly.
While these destinations are Tibet travel favorites the list of choices goes on and on. Adventure travelers can choose from a wide variety of treks and mountain biking routes, travelers interested in Tibetan culture and history could stay busy for a lifetime visiting sites across Tibet. No matter where a group may choose to go, the scenery is nothing short of phenomenal. With 2014 coming up quick travelers are encouraged to begin planning their tours now.
Devin Moore publishes above new release on behalf of local tour agency in Lhasa.