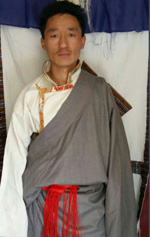 Tashi Delek and welcome to explore Tibet with TCTS-best service in Lhasa!
Lhasa, Tibet (PRWEB) May 22, 2015
While planning a tour of Tibet, the most successful travelers keep in mind the importance of a quality guide. Tibet Ctrip Travel Service-TCTS (http://www.tibetctrip.com) encourages visitors to travel with native Tibetans; not only do they provide the most authentic perspective but also they support the Tibetan community. Tibet travel agency TCTS has begun expanding its website to help travelers get to know who they'll be travelling with. In anticipation, TCTS provides a preview.
Tsering Nyandak: Tsering was born and raised in the foothills of Everest. Before working as a guide he studied English and Tibetan Buddhist history while living outside of Tibet. Tsering has been working with TCTS since 2008 and enjoys guiding Tibet tours in the Everest area along with tours that visit nomadic communities.
Sonam Topgyal: Born in the Tsetang area, Sonam grew up within view of Yungbulagang Palace and today is one of TCTS's most experienced guides. Sonam has guided tours all over Tibet and consistently wows travelers with his deep knowledge of Tibetan culture and history.
Lobsang Wangden: Originally from Eastern Tibet, Lobsang has 5 years of experience guiding English-speaking tours of Tibet. Previously, he worked for a travel agency in Xining where he focused on organizing tours and trekking adventures for the Kham area and Qinghai province.
All of TCTS's guides are native Tibetan Guides with several years of experience guiding western clients. While experience is an important part of the equation it's their knowledge of Tibetan culture and history and passion for sharing it that's key to an unforgettable experience while travelling in Tibet. Now that the 2015 travel season is here be on the look out for more about TCTS's guides and tour packages!