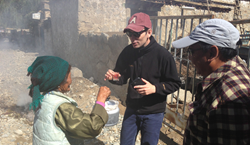 Unique travel destinations,many travelers do not know at all! Welcome to contact local travel agency in Lhasa www.tibetctrip.com!
Lhasa, Tibet (PRWEB) March 06, 2015
Searching the web for a Tibet tour operator quickly uncovers a multitude of companies and destinations to choose from. Travelers agree that all the details and options can seem a bit overwhelming at first. To help travelers start planning their 2015 tour, Tibet travel company Tibet Ctrip Travel Service-TCTS (http://www.tibetctrip.com) has put together information about a few of Tibet's most popular destinations.
Lhasa: This is the largest city in Tibet and is indisputably the heart of Tibetan culture. Here alone, travelers can learn lots about Tibet as they visit famous places such as Potala Palace, Jokhang Temple, Sera Monastery, and Dreprung Monastery. During the tour's free time, Barkhor Bazaar is a fantastic place to do some shopping and see every day life.
Tsetang: This is Tibet's original capital and is known as the cradle of Tibetan civilization. Located in the fertile Yarlung Valley, legend has it that this is where the Tibetan people originated. Among other ancient sites, Tibet's first palace is located here.
Mt. Everest: This is a must-see for those with more than a few days in Tibet. The best time for crystal clear views of Everest's north face is from late April to mid May and September to early October. The best views come early in the morning so be sure to ask the group's Tibet travel agency about staying in one of the nearby tent camps or at the inn across from Rongbuk Monastery.
While these are among the most popular, there's a seemingly endless list of places to choose from. TCTS encourages travelers to first think about their interests and then plan their tour of Tibet accordingly. Culture focused travelers may want to stick to places like Lhasa, Shigatse, or Tsetang while the adventurous at heart will find no shortage of opportunities for trekking or biking. TCTS is a Lhasa based Tibet travel agency and is more than happy to answer questions. With the 2015 travel season coming up quickly, now is the time to start planning a tour.