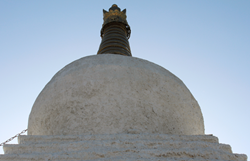 Is autumn a good time to travel to Tibet? Contact your local Tibet tour agency now!
Lhasa, Tibet (PRWEB) June 22, 2015
Travelers from around the world are beginning to arrive for their summer 2015 Tibet tours while many others have decided to delay their adventure for autumn. With little rain and hospitable temperatures during September to early October, autumn can be a fantastic time for getting a peak at some of Tibet's tallest mountains, such as Everest. Tibet Ctrip Travel Service-TCTS (http://www.tibetctrip.com) has been operating in Tibet for over 12 years and shares updated tips for traveler planning tours for autumn 2015.
Once travelers have nailed down whom the group will be comprised of and how long they'd like to visit, they can most effectively figure out what kind of tour is best. Easily-paced culture focused tours that include lots of stops at interesting sites are great for families or those looking to relax some. Groups who like long car rides and lots of scenery ought to consider an overland tour. When figuring out the Tibet tour length, keep in mind that the group will need to factor in flight time as well as a night in a hotel to receive the Tibet travel permit in the mail (only if coming from Mainland China). Also, be advised that travel is restricted to some areas in 2015 due to the recent Nepal earthquake.
Check popular travel review sites, such as Trip Advisor, to start the search for a tour operator. It's best to send out multiple inquiries and follow up with the ones that are prompt in responding and attentive to the needs of the group. Often, the experience during booking is indicative of the service received on tour. To ensure everything goes smoothly while obtaining travel permits, apply for passports and Chinese visas well in advance in addition to supplying the tour operator with the requested information.
It's important not to let all of the details of planning Tibet travel dissuade the group from planning the perfect adventure. Tibet is different as a travel destination and the time invested in finding the right tour operator and choosing the right itinerary will be well worth it. Tibet tour operator TCTS is more than happy to answer questions. With the 2015 travel season wearing on, now is the time to start planning!