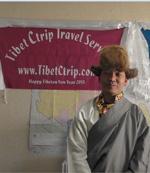 What are the popular Tibet travel destination in 2015?
Lhasa, Tibet (PRWEB) June 28, 2015
Travelers planning a tour of Tibet during 2015 have quickly discovered that there are a wide variety of destinations to choose from. For some, this can make the tour planning process a bit intimidating. Fortunately, travelers will find that after doing their homework on what Tibet has to offer that they'll be able to easily identify what interests them the most. To help them get started, local Tibet travel agency TCTS (http://www.tibetctrip.com) discusses what's been most popular in June 2015.
Mt. Kailash: Thousands of Hindus and Tibetan Buddhists make the pilgrimage to Kailash each year to make the ritualistic trek around its base. It is believed by some that the journey washes the soul of anger, fear, and prejudice. Itineraries last anywhere from 14 to 21 days, depending on whether the group will be doing the trek.
Lake Namtso: For travelers who only have a few days in Tibet, making the day trip to Lake Namtso from Lhasa is a great way to get a taste of Tibet's fantastic natural beauty. Namtso is the second largest lake in all of Tibet and China, behind Lake Qinghai. It's so large that it holds 5 islands.
Tsetang: Culture focused travelers love Tsetang! Tsetang is located in Yarlung Valley and is the legendary origin of the Tibetan people. Ancient sites such as Yungbulagang Palace are located here.
Getting the most out of a Tibet tour requires visitors to first think about their interests then decide on a tour from their. Culture focused travelers will want to fill their itineraries with temples and monasteries while the adventurous many want to think about one of Tibet's famous trekking routes. No matter the focus they possibilities are endless. With the 2015 travel season coming into full swing, now is the time to start planning a Tibet tour!