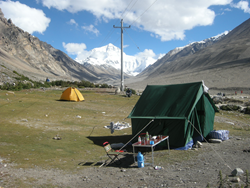 Welcome to trek Tibet with local agency www.tibetctrip.com!
Lhasa, Tibet (PRWEB) March 11, 2015
Travelers looking to go on a Tibet trek in 2015 will find no shortage of options while planning their tour. No matter the route, trekkers who overcome the challenges of thin air and sometimes rough terrain will be rewarded by Tibet's natural beauty and memories that will last a lifetime. To help travelers plan their trip Tony of travel agency Tibet Ctrip Travel Service-TCTS (http://www.tibetctrip.com) discusses some of the most popular trekking routes, which they just updates in early March 2015.
Everest base camp trek: Although the route is popular amongst adventurers, there is no shortage of opportunity for solitude and contemplation amongst the astounding scenery on this four-day trek. Starting at around 4400 meters and climbing to Everest base camp at about 5300 the altitude may be challenging, but the adventure is suitable for inexperienced trekkers. TCTS is able to provide vehicle support along the route so no need to worry about carrying a heavy load.
Mt. Kailash Pilgrimage: This Tibet trekking tour joins Hindus and Tibetan Buddhists on a special journey around the base of Mt. Kailash. Circumnavigating this sacred mountain is believed to wash the soul of anger, fear, and misperceptions of reality. It's usually a 3-day hike, and yak will carry the gear. The tour itself ranges from 18-21 days as Kailash is in Tibet's remote western region, Ngari. This is a tour where travelers will get to see a large cross section of Tibet!
Ganden to Samye Monastery Trek: On this unique adventure travel groups will have ample opportunity to enjoy scenic views along the trek while mixing in lessons on Tibetan culture and history at its endpoints. The group sets out at Ganden Monastery one of the three famous "university monasteries" and arrive at Samye Monastery about four days later. During this time trekkers will ascend two passes with the highest being 5200 meters before descending to Samye Monastery.
Of all the Tibet treks these are among the most popular routes offered by TCTS. Typically, travelers will start out in Lhasa giving travelers time to acclimatize to the thin air while enjoying an introduction to Tibetan culture and history at places like Potala Palace, Jokhang Temple, and Norbulingka. In addition equipment such as tents, sleeping bags, and cooking gear is provided. With the 2015 Tibet trekking season right around the corner now is the time to start planning!