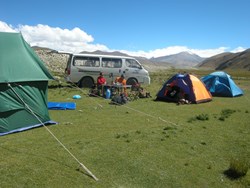 Find experienced Tibet Trekking Operator is more than important! Contact travel agency TCTS www.tibetctrip.com for 2014 adventure now!
Lhasa, Tibet (PRWEB) October 24, 2013
Travelers around the world are gearing up to trek Tibet in 2014. From the Everest base camp trek to the Kailash Manasarovar Pilgrimage, Tibet is an adventure travel mecca; now that 2013 is drawing to a close, it's time to start planning next year's trek. Spring makes for unforgettable scenes: conditions in higher altitude regions become much more hospitable, mountain flowers bloom, and skies are blue. Tibet Ctrip Travel Service-TCTS (http://www.tibetctrip.com) has been organizing professionally guided treks for over ten years and shares tips on planning a successful adventure.

Learn about Tibet's most popular treks. It's important to pick a trek that matches the travel group's interests and experience level. Inexperienced trekkers with a reasonable level of physical fitness can complete many Tibet treks while other treks are best for more seasoned trekkers.
Pick a quality tour provider. A quick Google search yields an endless list of travel agencies, however, not all are equal. TCTS for example employs experienced native Tibetan guides, provides trekking gear like sleeping bags and tents, while providing food and snacks that help trekkers remain well nourished on the trail.
Stay physically fit. Trekking long distances at a high altitude can place incredible demands on the body. While many treks don't require one to be in tip top shape, committing to exercising a few times a week before the trek can help travelers adjust to the altitude more quickly. Mountain sickness can be avoided by drinking lots of water, eating salty snacks, and not moving at a pace faster than the group is comfortable with.
Planning a Tibet trek can be a relatively easy experience; the hardest part is choosing which trek to go on. Using a quality tour provider and trying to remain physically fit before arriving in Tibet is key to a successful adventure. However, whether a travel group is new to trekking or has traversed some of the world's most difficult trails there's a Tibet trek to fit nearly every interest and experience level. Next year's Tibet tours season is only a few months away, travelers are encouraged to begin planning their trip now.
Tibet travel agency TCTS Contact Address:
Post Address: Tibet Niwei International Travel Service, Co., Ltd (Niwei Building Room 302, No.13 North Linkuo Road, Lhasa, Tibet)
Tel/Fax (Lhasa area code):86-891-6342607, Mobile: 86-13628999610 (Tony), Post Code: 850000
Email: sales (at) tibetCtrip (dot) com, TibetCtrip (at) gmail (dot) com
Devin Moore, author of this release, is a travel writer and independent economic analyst based in Denver, Colorado USA. In partnership with local Tibet travel agency TCTS (tibetctrip.com), Devin publishes Tibet travel related information in order to spread awareness of Tibet and its people.