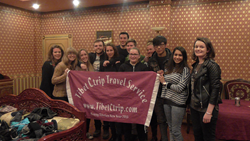 Great Tibet Tours Option-Professional Agency www.TibetCtrip.com offers you the best Tibet vacations 2015-2016!
Lhasa, Tibet (PRWEB) March 10, 2015
With the 2015 travel season right around the corner Lhasa based Tibet travel agency Tibet Ctrip Travel Service-TCTS (http://www.tibetctrip.com) wants travelers to arrive well-prepared for their tour. Few experiences compare to visiting Tibet; for this reason travelers agree that there are a few things one should know before they go.

All foreign visitors entering Tibet must have a travel permit. The group's Tibet travel agency will take care of the application. Those coming from Nepal will also need a Tibet group visa; this functions as travelers' Chinese visa however it is only valid for Tibet. A regular Chinese visa will be needed for travel in other parts of China.
The best time to visit is mid-April to June and September to early October. In general, travelers who visit during these times have the best chance of clear skies and fantastic site seeing. Keep in mind that Lhasa is hospitable year around, and while it can get cold and windy in the winter, it's a great time to beat the crowds.
Arriving and departing by air is the quickest way to begin or end a tour. Have some extra time? Be sure to ask about overland adventures and riding the Qinghai Tibet Railway. Within Tibet the group's Tibet tour operator will arrange all transportation, as travelers will not be able to use public busses outside Lhasa.
Don't be surprised to feel the effects of the thin air for the first couple days after arrival; this could come in the form of a mild headache, shortness of breath, or fatigue. Staying well hydrated and avoiding intense physical activity can go along way in minimizing these symptoms.
Taking time to ensure travel group members are well prepared is key to getting the most out of a tour. A quality Tibet travel agency will be happy to provide advice on when to come, where to go, how to get there, and how to avoid altitude sickness in addition to arranging all necessary travel permits. Visiting Tibet is a special experience, make sure to arrive well prepared so the memories last a lifetime!