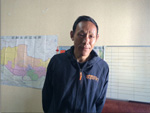 Welcome to trek Tibet with Tibet Ctrip Travel Service!
Lhasa, Tibet (PRWEB) June 06, 2015
Now that the 2015 travel season is kicking into gear, Tibet trekking has topped the list of adventure travelers' favorite activities. Trekking's popularity is no wonder as travel groups who take on the challenge are rewarded with scenery that most miss out on. For the 2015 travel season, Tibet Ctrip Travel Service-TCTS (http://www.tibetctrip.com) introduces a trek that is easy on beginners but still provides the challenge needed to leave them feeling accomplished.
The Tsurphu Yangpachen trek traverses fertile valleys with nomadic communities, rolling hills, and a mountain pass over 4 days. Each day consists of about 4-6 hours of easy paced hiking at a reasonable altitude, making it perfect for beginners. In addition, the schedule is flexible so trekkers can set a comfortable pace.
Travel groups will begin the Tibet tour in Lhasa where they will enjoy an introduction to Tibetan culture and history as they acclimatize to the altitude. During this time, most groups choose to visit must-see attractions such as Potala Palace and Jokhang Temple. Afterward the tour leaves Lhasa for Tsurphu Monastery where trekkers spend the night before heading out. The trek ends at Yangpachen Monastery and travelers will have the opportunity to soak their tired muscles in a nearby hot spring.
This tour of Tibet lasts 9 days. Travelers will not only enjoy unforgettable scenery but also will walk away with valuable knowledge of Tibet and its people. Tibet travel agency TCTS provides trekking equipment such as tents, sleeping bags, and cooking gear in addition to support staff that take care of camp. The 2015 travel season is here so now is the time to start planning a tour!