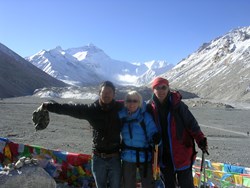 Follow the guide of Tibet Travel ORG to make your own tour plan to Tibet.
Tibet (PRWEB) October 31, 2013
Renowned as "the Roof of the World", Tibet is an extremely charming place with different highlights each month. All visitors to this place are greatly fascinated by its unique culture, time-honored traditions and picturesque landscape, no matter when they travel to Tibet.
January: Bathe in Warm Sunshine in Lhasa
Although January is the coldest month in Tibet, Lhasa is still a warm place even in winter. People can only wear a woolen sweater at noon in the sun. It is quite pleasant to bathe in the warm sunshine, drink a cup of sweet tea and chit-chat with friends. Such leisure time often makes travelers forget their troubles and open their heart to the world.
February: Celebrate Tibetan New Year
Tibetan New Year or Losar is the most important festival for Tibetan People, just as Spring Festival for Chinese or Christmas for westerners. The 15-day celebration begins with the New Year's Eve dinner on December 29 in the Tibetan calendar. The main activities are held on the first three days, including prayers, ceremonies, prayer flags hanging, and sacred and folk dancing. Travelers on a tour to Tibet will be rewarded with a big feast of exotic culture on such a festival.
March: Enjoy Peach Blossoms
When most areas of Tibet are still dominated by cold weather, it is warm in Nyingchi, southeast of Tibet. Nyingchi is a sea of peach blossoms in March, like crimson clouds hovering in the embraces of snowy mountains.
April: Date with Mt. Everest
Mt. Everest, 8,844.43 meters above sea level, is worldwide known as the highest peak on earth. April and May is the best time to visit and climb Everest. During these months, travelers can get the best visibility of the peak and have the largest opportunity to see beautiful sunrise or sunset over the mountain.
May: Worship Mt. Kailash
Mt. Kailash in western Tibet is reputed as the holiest mountain in Asia. Tibetan people believe that one circle around the mountain erases their sins of a lifetime. Pilgrims gain much more merits from the walk during the annual Saga Dawa Festival, which is usually celebrated around late May or early June.
June: Watch Horse Race in Gyantse
Tibetan people have a passion for horse racing, an important activity to celebrate local grand events. Gyantse Horse Racing is a great chance for tourists to witness Tibetan people's enthusiasm on this game. Various activities, such as archery, ball games, field events, folk performances and barter trade, make this festival more attractive.
July: Eat Yak Yogurt
The yak is a unique animal on the Tibetan plateau. A lot of Tibetan food is related to yaks. In summer, yak yogurt is the most popular one. It is interesting that people eat yogurt to celebrate Shoton Festival, which is the most popular traditional festival in Tibet. It usually falls in late July or early August each year.
August: Visit Tibetan Nomads
Tibetan nomads are said to be one of the most interesting peoples on the planet. They live in the remote, elevated grassland areas on the Tibetan Plateau. The best chance to get close to them comes on the annual Ngachu Horse Racing Festival, which is held on the well-known Changtang Grassland in early August.
September: Participate in Harvesting Highland Barley
Highland barley is the main crop cultivated on the Tibetan Plateau. It is traditionally used to make Tsamba, the most famous Tibetan food. Highland Barley is usually harvested in September in Shigatse, which is known as "the Granary of Tibet". On the way from Lhasa to Kathmandu, travelers can see vast golden fields of highland barley.
October: View Mt. Namcha Barwa
At an altitude of 7,782 meters, Mount Namcha Barwa ranks as the 15th highest peak in the world and the most attractive mountain in China. It towers above one of earth's deepest gorges, the Tsangpo Gorge, along the Yarlung Tsangpo River. Namcha Barwa presents its most majestic appearance in autumn.
November: Join Tibetan Pilgrims
November is early winter in Tibet. There seems to be more pilgrims in front of the Jokhang Temple in November than in summer. Tibetans from various regions all come to the temple for pilgrimage in the slack season, bringing more vitality and richer colors to this sacred site.
December: Shoot Birds in Lhasa
Rich in wetlands, Lhasa welcomes tens of thousands of overwintering migratory birds in December, when it becomes extremely cold in northern Tibet. Flocks of birds gather around the Lhasa River, playing or scrambling for food, a great photography opportunity.
Source from Tibet Travel ORG (http://www.tibettravel.org), a reliable travel agency, specializing in Tibet tour services.