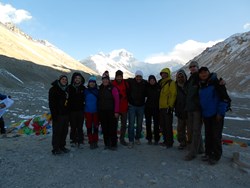 Don't hesitate to contact Tibet Travel ORG (inquiry@tibettravel.org) for free advice on planning a tour to Tibet.
Tibet (PRWEB) December 06, 2013
The year 2014 is around the corner. According to the Tibetan Tourism Bureau, Tibet, the top destination in Asia, has received over 12 million tourists in the first ten months during this year. About 10% were from overseas.
"Benefiting from the favorable policy of Tibet Permit or Visa, most foreign tourists enjoy easy travels to Tibet. We organized over 1,000 individual travelers and more than 100 tour groups to Tibet this year. We expect the good business will continue next year," said Ms. Catherine, manager of TIBET TRAVEL ORG CITS (China International Travel Service).
"Many travelers have booked a tour from us for the upcoming 2014 after we launched promotions for hot tours in Tibet, such as the most popular one from Lhasa to Everest Base Camp or Kathmandu, and a train trip to Lhasa from mainland China," Ms. Catherine continued.
Travelers can get as much as 5% off if they book a tour three months in advance or as a group of at least three people. They can also enjoy free airport transfer service and a Tibetan welcome dinner, according to the information on the website of Tibet Travel ORG.
In addition, travelers can get more benefits by booking a tour through the Facebook of Tibet Travel ORG. For instance, they will enjoy a free sleeper train ticket to Lhasa from mainland China if they join a tour group to Everest Base Camp and Mount Kailash during the Saga Dawa Festival celebrated in early June 2014.
April to June is the best time to view the world's highest peak, Mt. Everest. The weather in Tibet also gets warmer and warmer. Thus, many travelers flock into Tibet during this period. Many local tourism agencies suggest that potential travelers make plans early.
About Tibet Travel ORG CITS
As an important member of CITS, the biggest international tour company in China, Tibet Travel ORG (http://www.tibettravel.org) has ranked as the top local-based travel agency specializing in Tibet tour services. It has over 12 years' experience in organizing tours to Tibet for foreign travelers, and is committed to Tibet Travel Permits, air/train tickets to Lhasa and customizable tour packages.