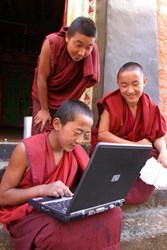 Feel free to contact Tibet Travel ORG for any information about arranging a tour to Tibet in 2014.
Tibet (PRWEB) December 27, 2013
One can learn a lot about Tibet by visiting monasteries and monks as they are a unique and important part of Tibetan culture. As the top local travel agency, Tibet Travel ORG CITS has designed many tour routes covering well-known monasteries in Tibet, such as Sera, Drepung and Ganden monasteries, the three major ones of Gelug Sect in Lhasa, Tashilunpo Monastery, the seat of Panchen Lama, and Sakya Monastery, the seat of Sakyapa school of Tibetan Buddhism.
In order to help travelers understand better, the agency also asked Lobsang Tsering, an experienced tour guide, to introduce the life of Tibetan monks.
"A child can be a monk when he is over eight years old, but most at an age over 13," said Lobsang Tsering. "Child monks must learn Tibetan language at first. They are also asked to recite simple prayers."
"An ordinary monk's typical day starts with prayers and mediation at around 6:00 am. He then eats breakfast, study and debate Buddhist scriptures," Lobsang Tsering continued. "Monks usually have butter tea and Tsampa for breakfast. Before lunch, they gather together to pray again. At noon, they can visit their teachers for more Buddhist philosophical studies. In the afternoon, they do some work for their monastery or just relax. They also pray before dinner and meditate before going to bed."
"Tibetan monks' life is very simple, but it has changed a lot with the development of society. For example, free digital TV programs are available in more than 500 dormitories in Sera Monastery in Lhasa. So, monks can watch TV in their spare time. Nowadays, many monasteries have access to Internet, which makes it possible for monks to learn Buddhist scriptures and scientific knowledge online. Some also get online on their mobile phones to play games, watch movies, learn English or read e-books."
In addition to experiencing the life of Tibetan monks, travelers can also see all kinds of ancient murals, thangkas, Buddhist scriptures and Buddha statues in monasteries. In a word, they can enjoy a blend of tradition and modernization. Tibet Travel Org will arrange famous monasteries in a tour to Lhasa or a trip from Lhasa to Kathmandu via Shigatse, which makes travelers to experience both cultural and natural highlights of Tibet.
About Tibet Travel ORG CITS
Tibet Travel ORG CITS (http://www.tibettravel.org) is the top online Tibet tour operator. It sends more than 1,000 individual travelers and over 100 tour groups to Tibet every year. It helps travelers obtain the Tibet Travel Permits, book air/train tickets to Tibet and customize their tours.