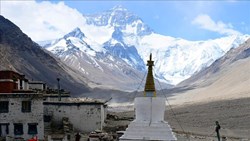 It is time to prepare your trip to Everest Base Camp now.
Tibet (PRWEB) February 13, 2014
The world's highest peak Mount Everest is the most popular tourist site in Tibet. According to Tibet Travel Org CITS, over 70% of their clients (around 1000 annually) travel from Lhasa to Everest Base Camp (EBC) for a close view of the peak. However, EBC is a remote high-altitude place with very simple facilities. Good preparation is necessary. Thus, the company recently updated its official guide to help travelers plan a trip to Everest Base Camp.
1. The Best Time to Visit Mt. Everest
The best time to visit Mt. Everest is from April to early June and September to November. During these two periods, the weather is usually nice and the sky is clear. Travelers can enjoy high visibility. Mid-June through August is Tibet's monsoon season, when Mount Everest might be covered by heavy fog all day long. In winter, it is extremely cold and the road to EBC may be blocked by heavy snow. Detailed information about the best time to travel to Everest Base Camp can be found on the company's website.
2. Permits for Visiting EBC
Generally, two permits are required for foreigners to visit EBC. One is Tibet Travel Permit issued by Tibet Tourism Bureau. Travelers should get it before going to Tibet. Another is Alien's Travel Permit issued by Public Security Bureau of Tibet. Travelers can apply for it after arriving in Tibet. Tibet Travel Org CITS will easily secure both permits for their clients.
3. How to Get to EBC
Since EBC is a remote site without public transport services, travelers have to spend a lot of money on renting vehicles. The best way to cut down the cost is join in a tour group. Tibet Travel Org CITS offers two hot packages at favorable prices, an 8-day tour from Lhasa to EBC from US $790 and a 7-day tour from Lhasa to Kathmandu from US $920. Compared with a private tour, these packages will help tourists save as much as 50%. The prices include permits, transportation, accommodation, entrance tickets, local tour guide and service fee in Tibet. The two tours are often highly praised by travelers. No matter which tour they choose, they will experience both the cultural and natural highlights of Tibet.
4. What Clothes to Pack
Due to high altitude, the temperature at EBC is quite low. It may rise to ten degrees centigrade or so in the daytime, but could drop rapidly to below zero at night, even in summer. Therefore, warm clothes are needed all year round. In addition, it is extremely windy at EBC. A windproof coat is also necessary.
5. Food and Accommodations
Generally, the condition of restaurants and hotels in Tibet, especially out of Lhasa, is not as good as that in big cities of mainland China, but the price might be a little higher. Sometimes, only simple food and basic accommodations are available.
6. Wonderful Spots to Shoot Mt. Everest
At EBC, travelers can have a clear shoot of Everest, but they need to look hard for the best photo angle. A hill near Rongbuk Monastery, which is located about 8 kilometers north of EBC, is believed to be the best place to shoot Everest. Visitors can take fantastic pictures of the peak there at sunrise or sunset. What's more, the white tower of the monastery can be used as the foreground to add depth to the photos.
Travelers are also advised to shoot the amazing night sky over Mt. Everest. In addition, they can get marvelous distant view of Everest and its surrounding mountains at Gyawula Pass (5,100 meters) on the way from Tingri to EBC. If travelers join in tour groups to Everest Base Camp offered by Tibet Travel Org CITS, they will get enough time for photos on the way and at EBC.
About Tibet Travel Org CITS
Tibet Travel Org CITS (http://www.tibettravel.org) is a local based tour operator, sending more than 1,000 individual travelers and over 100 tour groups to Tibet annually. It helps travelers obtain the Tibet Travel Permits, book air/train tickets to Tibet and customize their tours.