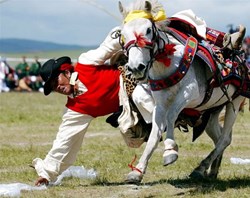 It is time to prepare for a tour to Tibet in 2014. Do not hesitate to contact Tibet Travel Org if you need any help.
Tibet (PRWEB) February 04, 2014
Summer is the best time to visit Tibet, but many travelers have begun to plan their trip to Tibet. Tibet travel agencies, like the best local-based tour operator, Tibet Travel Org CITS, also start to promote tours for summer events and festivals 2014.
Summer is widely considered as the best time to travel to Tibet not only because of the comfortable weather and beautiful landscape, but also the celebrations of various traditional festivals. According to Mrs. Catherine Go, manager of the agency, Tibet Travel Org CITS offers great discount for travelers who book the following tours three months in advance or in a group of more than three persons.
1. 7-day Gyantse Horse Racing Festival Tour
As horses have been good companions of Tibetan people for generations, festivals themed in horse race are imperative. Gyantse Horse Racing Festival, also known as Gyantse Damar Festival, is the most famous in central Tibet. This year, the festival will fall on June 8 and last for a few days. Visitors can watch exciting horse/yak race, archery, ball games, field events and dance contests. They will also see local people trading goods in a traditional way.
2. 15-day Saga Dawa Festival Tour
Saga Dawa, the grandest religious festival for Tibetans, is usually celebrated for the whole fourth lunar Tibetan month, but the highlights fall on the fifteenth day, June 13, 2014. Visitors will watch interesting religious ceremonies and see thousands of devout pilgrims in Lhasa and at Mt. Kailash. Lhasa is the holy center of Tibet, while Mt. Kailash is the most sacred mountain for Tibetan Buddhists. Both are the hot destinations for pilgrims and tourists on Saga Dawa Festival.
3. 8-day Tashilhunpo Festival Tour
Known as the traditional seat of successive Panchen Lamas, Tashilhunpo is the most important monastery in Shigatse area. Buddha Exhibition Festival held in this monastery attracts lots of Tibetan Buddhists and visitors. The festival will be celebrated from July 10 to July 12, 2014. Huge Thangkas of the past, the present and the future Buddhas are displayed each day. Travelers can see lamas and followers of Tibetan Buddhism showing their respect to the Buddhas and praying in various ways.
4. 8-day Nagchu Horse Racing Festival Tour
Horse racing festival held annually on Changtang Grassland is the grandest event in northern Tibet. It usually lasts for a week from August 10. Tens of thousands of herdsmen gather on the vast grassland to celebrate the great occasion. Horsemanship, yak race, tug of war, lifting stones, Tibetan operas and exchanging goods are the main activities. Those Tibetans dressed in traditional costumes are also a great attraction for visitors.
Shoton Festival is the grandest traditional Tibetan festival in summer. It mainly consists of three parts–the giant Buddha paintings unfolding ceremony at Drepung Monastery, the horsemanship and yak race show and Tibetan opera. It represents the best of Tibetan religion, culture and tradition. In 2014, the festival will fall on August 25 and last for a few days.
"All our tour routes are well-designed. We combine the hot events with famous tourist destinations. We highly recommend tourists to choose the pre-designed tours so as to find travel mates to share the cost," said Mrs. Catherine Go. "We also offer customizable services to meet different travelers' requirements."
Tibet Travel Org CITS (http://www.tibettravel.org) is a local-based tour operator, specializing in arranging western tourists to Tibet for over 13 years.