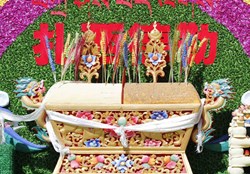 Feel free to contact Tibet Travel ORG to customize a tour to Tibet.
Tibet (PRWEB) December 11, 2013
The next Tibetan New Year Festival will be celebrated in early March 2014. Tibet travel agencies have begun to make tour reservations for the festival. Catherine, the manager of Tibet Travel Org CITS, highly recommends travelers to visit Tibet during Tibetan New Year, for it is the greatest time for travelers to experience local culture at low cost.
"It is still the low season. You can enjoy good discounts on air tickets, hotels and tourist sites. We also offer great discounts if you book a tour three months in advance or as a group of minimal three persons," said Catherine.
"It is also a wonderful time to see snow-capped mountains on Tibetan Plateau, especially Mount Everest. After the grand festival in Lhasa, you can continue to Everest Base Camp or Kathmandu," said Lobsang Tsering, an experienced Tibetan tour guide.
Tibetan New Year is known as "Losar" in Tibetan language. It is the most important traditional festival in Tibet. It falls on the first day of the first Tibetan month. It is usually celebrated for 15 days, with the main activities on the first few days.
Two days before the new year, Tibetans clean their houses thoroughly and do other preparations. On the night before the New Year's Eve, they eat Guthuk as a ritual of dispelling negativity of the old year. Guthuk is a traditional Tibetan soup with dumplings, which are not the common ones we know well of. They are stuffed with nine symbols that will, as the legend goes, predict a person's fortune in the coming year. These symbols are sugar cube, charcoal, wool string, wood, bean, paper, pebble, chili pepper and cotton ball. After the dinner, Tibetans hold another ceremony to dispel ghost with firecrackers and torches. The day before the new year, religious ceremonies are held at local monasteries, where people worship Buddha and give gifts to monks.
On the first day of the new year, Tibetan housewives get up very early to cook a pot of barley wine for the family before sunrise. Just as dawn is breaking, they head for a nearby river or well to fetch the year's first bucket of water, which is considered as the most sacred, clearest of the year. Other family members also get up early, put on new clothes, and go to their household shrines to make offerings to their Gods. The offerings usually consist of animals and demons made from a kind of dough called Torma. Later, the whole family has a reunion dinner with cakes called Kapse and alcoholic drinks called Chang.
From the second day, they begin to visit their friends and relatives for three to five days. On the third day, they offer sacrifices to the "God of Roof". All of them hang new prayer flags on the roof of their houses. Then, they burn cypress branches and throw Tsamba into the air as a way of expressing good wishes. From the fourth day, they start the largest religious ceremony - Monlam, which lasts until the 15th day of the first Tibetan month.
It will be very interesting for travelers to celebrate this grand festival with the locals. Lhasa, the capital of Tibet, is the best place to experience the festive highlights. Many Tibetans will go to Lhasa to visit monasteries and do rituals. In addition, various performances and activities will be held there to celebrate the new year.
About Tibet Travel Org CITS
As an important member of CITS, the biggest international tour company in China, Tibet Travel ORG (http://www.tibettravel.org) has ranked as the top local-based travel agency specializing in Tibet tour services. It has over 12 years' experience in organizing tours to Tibet for foreign travelers, and is committed to Tibet Travel Permit, air/train tickets to Lhasa and customizable tour packages.