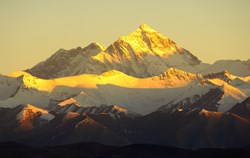 Do not miss these interesting travel events if you are planning a tour to Tibet. Feel free to contact Tibet Travel ORG for more information.
Tibet (PRWEB) December 12, 2013
Tibet is always considered a mysterious place because of its unique traditions and customs. Every year, it attracts millions of tourists from across the world with its spectacular scenery and rich culture. As the year 2014 is approaching, Tibet travel agencies have begun to promote tours for the upcoming travel events. According to Mrs. Catherine Go, manager of Tibet Travel Org CITS, her company has designed tours for the following top five events.
1. Spring Tour to Everest Base Camp (EBC)
April and June is the best time to view the world's highest peak, Mt. Everest. The weather in Tibet gets much warmer in spring. EBC in Tibet becomes more animated with the arrival of mountaineers and tourists. Catherine highly recommends travelers to join in an 8-day group tour from Lhasa to EBC. As the best seller of her company, this tour can cut down travellers' cost maximally.
2. Tibetan New Year Tour to Lhasa
Tibetan New Year or Losar is celebrated for 15 days in the first Tibetan month. It is the grandest traditional festival in Tibetan calendar. Locals begin to prepare for the festival one month in advance. They actually start to celebrate it two days ahead. The festival mixes sacred and secular practices of prayers, ceremonies, folk performances, hanging prayer flags, visiting friends, exchanging gifts, etc. "Travellers can spend as low as US$ 450 for a Lhasa City tour to experience the festive highlights," said Lobsang Tsering, an experienced local tour guide.
3. Damar Festival Tour to Gyantse
Damar Festival is from the 10th to the 28th day of the fourth Tibetan month. It has a history of more than 600 years. It is celebrated with various games, including horse/yak race, horseback archery, tug-of-war, ball games, track & field, as well as folk performances. Travelers will see thousands of traditionally dressed herdsmen and farmers trading products with local businessmen in a very primitive way. For this event, Lobsang Tsering recommends a 7-day Damar Festival tour in June 2014.
4. Saga Dawa Festival Tour to Mt. Kailash
Saga Dawa is one of the most important religious festivals in Tibetan Buddhism. It is celebrated throughout the fourth Tibetan month, with highlights on the fifteenth day. Tibetan Buddhists believe that Sakyamuni was born, became Buddha and died in April of the Tibetan calendar. Thus, the celebration mainly focuses on worshiping Buddha, such as doing the ritual walk, reciting scriptures, hanging prayer flags and visiting sacred sites. Mt. Kailash is regarded as the most sacred mountain by Tibetans, so it is the busiest pilgrimage destination during Saga Dawa Festival. Specially for the festival, Tibet Travel Org CITS has launched a 15-day tour from Lhasa to Mt. Kailash via Everest Base Camp. It will enable travelers to experience both the cultural and natural highlights of Tibet.
5. Peach Blossom Festival Tour to Nyingchi
Located in southeast Tibet, Nyingchi Prefecture is known as the "Switzerland of Tibet" because of its semi-humid climate and fascinating scenery. Being the lowest area in Tibet, Nyingchi embraces spring earlier than the rest of Tibet. In March and April, it is dotted with millions of peach blossoms. Local government holds a Peach Blossom Festival from mid-March to late April to attract tourists. Various activities are launched by Nyang River, such as photography contest, folk performances, sport activities and wedding ceremonies. Tibet Travel ORG CITS offers a 10-day tour from Chengdu to Nyingchi for travelers to enjoy the beautiful sight to their heart's content.
About Tibet Travel ORG CITS
Tibet Travel ORG CITS (http://www.tibettravel.org) is the top online Tibet tour operator. It helps travelers obtain Tibet Travel Permits, book air/train tickets to Tibet and customize their tours. The company sends more than 1,000 individual travelers and over 100 tour groups to Tibet annually.