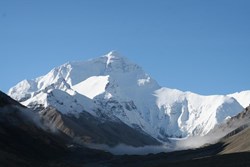 Welcome to visit the mobile site of Tibet Travel ORG (www.tibettravel.org/m/) and keep up to date with information on planning a trip to Tibet, the roof of the world.
Tibet (PRWEB) January 15, 2014
Recently, Tibet Travel ORG CITS has launched its mobile site, becoming the first Tibet travel agency to do so. Tourists can now keep up to date with travel information and inquire a tour to Tibet quickly and easily from their mobile devices.
"Our website has a rapidly increasing number of users with mobile phones and tablets," said Mrs. Catherine Go, manager of the agency. "Almost 30% of the visits to tibettravel.org come through handheld devices. It is worthwhile and necessary for our company to make our website accessible through the mobile technology."
"We want our mobile and tablet readers to have the best possible experience of our website on smaller screens." Catherine continued in excitement. "We focused on improving user experience, stability and simplicity. Our goal is to provide the best user experience for reading our content and booking or inquiring a tour. Whatever your device, you will be presented with a clear view with minimal distraction. After several months of design and development, we are delighted to announce the launch of our first edition of mobile website. We will keep updating it."
On the homepage of the mobile site of tibettravel.org, visitors can see five major categories, including Qinghai-Tibet Railway, Private Tours, Group Tours, Travel Advice and Regional Guide. They can easily find information good for further exploration. On the main page, more information is provided with a headline, explanatory text and an image. For example, top seven Tibet tour packages are displayed in Group Tours page. Visitors will have a clear idea about each tour, including the price, length and places to visit.
Visitors can go to the article pages to read more. For instance, there is detailed information about each attraction in different areas of Tibet on the article pages of Tibet Travel Guide, and tips like the best time to visit Tibet, how to get to Tibet, and what to pack under Travel Advice.
In addition, visitors can make a call or send an email to book or inquire about a tour quickly through the site. Overall, they will quickly adapt to the site, which maintains a clean, streamlined web look, and continues to present a clear guideline of the services and products the company offers.
Tibet Travel ORG CITS (http://www.tibettravel.org) is the top online Tibet tour operator. It sends more than 1,000 individual travelers and over 100 tour groups to Tibet every year. It helps travelers to obtain the Tibet Travel Permits, book air/train tickets to Tibet and customize their tours.