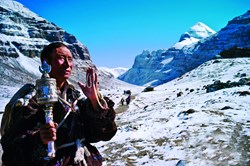 Let's go to explore the last pure land on the planet by the most pious way.
Tibet (PRWEB) January 09, 2014
With the approach of Tibet's peak tourist season, many travelers have begun to plan their trips to the roof of the world. Tibet Travel ORG CITS recommends tourists to do a pilgrimage trek in Tibet to experience local culture and enjoy beautiful scenery. 2014 is the year of the Horse according to Tibetan lunar calendar, occurring only once every 12 years. It is regarded as an auspicious year, during which pilgrimage to holy sites is considered especially efficacious.
Tibetans have a tradition of worshipping holy mountains in the year of Horse, and sacred lakes in the year of Sheep. In 2014, most Tibetans will worship mountains nearby. Some will travel farther to do kora or trek around Mt. Kailash, the most sacred mountain in western Tibet.
Generally, Tibetan pilgrims pray, chant, or turn prayer wheels as they walk in a clockwise circle around a sacred site. Some even practice long kowtows or prostration ritual. They lie face down in prayer, get up, walk three steps forward, and prostrate again. Despite the hardship, they repeat this process over and over again. It is truly a unique experience for travelers to witness the energy and devotion of pilgrims amid the breathtaking scenery of Tibet's holy mountains.
Travelers will have a better understanding after doing a trek along one of the popular pilgrimage routes in Tibet, such as Ganden – Samye and circumambulation around Mt. Kailash. In 2014, the trek season will start from June, the fourth Tibetan lunar month, known as the Saga Dawa holiday. Saga Dawa is especially a sacred time because it is believed that Buddha was born, achieved enlightenment, and attained Nirvana in this month in the year of the Horse. Therefore, the celebration of Saga Dawa Festival will be unprecedentedly grand in 2014. Travelers will see numerous pilgrims in Lhasa, at Mt. Kailash, and around other famous sacred sites.
Tibet Travel ORG CITS is taking reservations for trekking tours in Tibet for 2014. Mrs. Catherine Go, general manager of the agency, advises trekkers to choose the hot routes so that they could share the cost with travel buddies and help each other en route. She recommends five trekking routes, namely, Mt. Kailash trek, Tingri – Everest Base Camp, Tsurphu – Yangpachen, Ganden – Samye and Shalu – Nartang. She also shares some advice on trekking in Tibet.
1. The best time to trek in Tibet is from June to September. During these months, it is not very cold.
2. Trekkers need to prepare clothes for both summer and winter as the temperature varies greatly among different areas, as well as between daytime and night. Warm sleeping bags are also important.
3. It is better to prepare some high-calorie food like chocolate because trekking at high altitude consumes a lot of energy.
4. It is necessary to hire porters to carry luggage. It costs around RMB 100-150 per day for each porter.
5. Be responsible. "Take only pictures, leave only footprints" is an appropriate philosophy for preserving Tibet's wilderness.
6. Take care of Tibet travel permits which are required for most areas of Tibet.
Tibet Travel ORG CITS (http://www.tibettravel.org), the top online Tibet tour operator, has rich experience in organizing trekking tours for foreigners. It offers trekkers all necessary equipment, travel documents, experienced tour guides and cooks, etc.