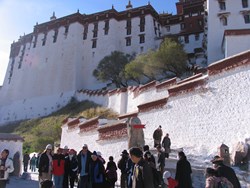 Travel to Tibet in winter, experience the most authentic Tibetan culture and enjoy great discount offered by Tibet Travel Org.
Lhasa, Tibet (PRWEB) October 24, 2013
With an average altitude of 4,500 meters, Tibet is always mistakenly considered unbearably cold and off the list of winter destinations. However, travelers who have actually been there believe it to be the best winter destination in Asia. First, Tibet is not as cold as many people imagine. In the daytime, it is actually quite warm. Temperature rises quickly with the sun. Second, Tibet is at its most authentic in winter when Tibetans take advantage of this slack farming season to make their pilgrimage. Monasteries, temples and streets are teeming with traditionally dressed Tibetan Buddhists. Third, it is the best time to avoid crowds and enjoy lower cost on a tour to Tibet. Travelers can usually get a good discount on hotels, air tickets, tourist sites and other services in winter.
However, travelers should take note that the roads to some mountainous areas of Tibet might be blocked by heavy snow. Tibet Travel ORG highly recommends the following three destinations, which are the most attractive and usually reachable in winter.
Destination One: Lhasa, the City of Sunshine
Sitting on the north bank of Lhasa River, Lhasa is the political, economic, cultural and religious center of Tibet. With more than 3,000 hours of sunshine annually, it is dubbed "the City of Sunshine". Its average temperature is about ten degrees centigrade in winter. In the daytime, it gets warmer as the sunlight intensifies. Although it is very cold at night, travelers can still sleep well in a large number of hotels equipped with perfect heating facilities.
There are many historic sites and famous relics in and around the city, such as the well-known Potala Palace, Jokhang Temple and the three greatest monasteries of Tibet. In winter, many pilgrims visit the monasteries and take part in religious activities in Lhasa, a great opportunity to experience local culture and customs. In addition, snow-capped mountains, blue lakes, hot springs and millions of migratory birds make Lhasa more charming in winter.
Destination Two: Shigatse, a hot tourist city accessible all year-round
Located in the alluvial plain at the confluence of Yarlung Tsangbo and Nyanchu River, Shigatse is the second largest city in Tibet. It is famous for Tashilhunpo Monastery, the traditional seat of Panchen Lama, one of the two prestigious spiritual leaders in Tibet. The city is of great importance also for its location on Friendship Highway, a hot international tour route from Lhasa to Kathmandu. It is 250 km southwest of Lhasa, 300 km away from the world's highest peak, Mt. Everest. It is 150 km away from Sakya Monastery known as "the second Dunhuang". A week is enough to visit both Lhasa and Shigatse. No wonder, this city embraces a great number of visitors all year-round.
On the way to Shigatse, there are also several famous tourist sites, including Lake Yamdrok, Karola Glacier, Gyantse Dzong and Kumbum of Palcho Monastery. In addition, there are many traditional villages, where travelers can visit Tibetan families to experience local life and enjoy authentic Tibetan food.
Destination Three: Mt. Everest, the best destination in winter
With a peak at 8,844 meters above sea level, Mt. Everest is renowned as the highest mountain on earth and "the Third Pole of the World". Although it is very cold there in winter, the scenery is extremely beautiful. As the sun gets lower and the sky becomes clear, it casts beautiful shadows and illuminates almost everything in sight. Therefore, travelers can take amazing photos of the peak and its surrounding mountains of over 8,000 meters above sea level, even if they are not professional photographers. Most importantly, the road to Rongbuk Monastery is usually accessible in winter, which makes a tour to Everest Base Camp possible.
To visit Everest, warm clothes must be prepared. A down sleeping bag is also recommended if travelers are going to stay there overnight. Near the base camp, Rongbuk is the only place with accommodation available in winter. Of course, travelers can get back to Tingri for more and better choices. At Tingri, travelers can also see the beautiful sunrise or sunset over Mt. Everest, even the whole Himalayas.
Source from Tibet Travel ORG (http://www.tibettravel.org), a top online Tibet travel agency with rich experience in organizing tours to Tibet for foreigners. The agency is now offering customized services for winter trips.