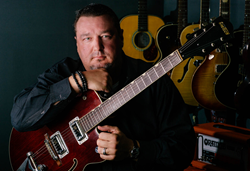 Time is now being focused on technology, what will help modern HOWs reach their community better, and more cost effectively.
Atlanta, Georgia (PRWEB) April 29, 2015
At Technical Innovation, it's no secret their focus is on providing clients with the best-in-class video-centric communication solutions. They achieve this by making sure their system designers are experts in everything from streaming video and on-demand rich media, to collaborative video conferencing, HDTV, and digital archiving and retrieval.
Not surprisingly, they also make sure their leadership team are industry pros, and they're proud to introduce one today: Michael Wright.
Michael is responsible for sales, marketing, engineering and field operations. He is also directly involved in all strategic planning and maintains responsibility for any high-profile projects. Prior to joining TI in 1999, Michael held management and sales positions at Quantel and Sony.
So, in honor of International Guitar Month, Michael, an avid collector with an enviable guitar & bass collection, sits down to share the roots of his love of music - a little better.
Technical Innovation (TI): Tell us a little bit about Michael Wright.
Michael Wright (MW): Well, I was born in Muscle Shoals, Alabama in the mid-1960s - a pretty great time in that part of the world when it comes to music—home of Muscle Shoals Sound, where legends like Wilson Pickett, and Aretha Franklin came to play and record. Once word got out, then other greats came to tap into the local magic – artists like Bob Dylan, Paul Simon and Bob Seger.
I grew up with music. I always loved playing and listening to it, and it's carried over into my life in a huge way, influencing my work and igniting a passion for collecting guitars.
My wife of 26 years, Sherri, and I are the proud parents of 4 sons. Three of my sons are serious musicians: a drummer, a guitarist and a bass player. My oldest didn't play but, instead, followed my passion for worship and became a pastor.
TI: When did you first fall in love with music?
MW: I guess I was heavily influenced not only by my environment, but also by my father. He worked at Sony, and I was exposed to the recording studio as well as the technical side of music creation. I had my own studio at 10 years old! (Laughs) Some kids are into sports, I was definitely into music. I used to hide in there, trying to slow down records, experimenting with the sound at different speeds, and trying to learn to riff to my favorite songs and artists. I was really influenced by Keith Richards as a guitar player. As a songwriter, James Taylor's catalog was my classroom. But most significant for me was surely Paul McCartney. His singularly unique bass playing style has carried over into everything I do.
TI: Was it always the guitar? Did you have any other instruments you loved to play?
MW: Actually, I started out as a drummer! I think I drove my parents crazy playing those drums in my bedroom. But when I was 13, I discovered the guitar. That was it! I taught myself how to play. I toyed with drums, bass, piano - but the guitar was pretty tough. I definitely wasn't a natural. I was in bands, but never as the guitarist. I was the drummer, then the bass player. Finally, when I was around 17 I finally became an official "guitar player" - seems funny to think about it now. I think I had to grow up a bit before I could really grasp the intricacies of the guitar, plus, I spent a lot of years on a four sting bass, so….
TI: How did you wind up in the technology integration space?
MW: After high school, I was presented with the opportunity to hit the road with a band. A classic teenager who'd grown-up around the television industry and the music of Muscle Shoals, I was faced with the decision of traveling with a band or going to business school. What would you have done? (Laughs) Well, I didn't. I opted out of the band and went to business school - Kennesaw State University. Not much of a rebel I guess (smiling), but I did get to blend my love of business with my love of music!
Straight out of school I ended up following my dad's footsteps at Sony, in consumer electronics and then later in broadcast. That's how I ended up at Quantel, a high-end manufacturer of broadcast equipment. In 1999, Sonny Davis, an icon in our industry, reached out to me with an invitation to join and eventually lead what would become Technical Innovation's Broadcast Solutions Group. I've been here ever since!
TI: Did music and guitar influence your decision to go into this business?
MW: My passion for the transformative power of music has always had a big influence in my work at Technical Innovation. The launch of Blue Hat Design, a business group focused on providing presentation, performance and broadcast solutions to faith-based organizations, was an opportunity to merge that passion with my knowledge of system integration.
TI: I understand you are weaving your enthusiasm of guitar and your desire to help bring engaging worship experiences to organizations outside the traditional church setting by offering some type of portable solution. Can you tell me about that?
MW: Definitely. A big trend in the industry today is the multi-campus church - take 12Stone® Church, for example. They presented us with a challenge: Launch across five different campuses in one weekend. They wanted an option for temporary touring, as well as installations for their audio, video, and lighting. This is a huge operation! It involved rolling in, rigging the stages and lighting, getting equipment into place and checking acoustics in time for the service. Once the service ended, we had to turn around and tear the whole thing down, pack it up and start all over again the next weekend!
This is what inspired us to work on the portable church…
We have done fixed installations for a long time. But this challenge actually led us to develop this new portable model which has been very successful and is something that we are starting to productize to offer to others.
TI: Where do you see the house of worship and tech industry growing over the next three to five years?
MW: There are two major forces pushing this market at the moment:
Multi Campus (from large fixed systems to portable and everything in between): If you go back in history in the HOW market…it was all about physical real estate. Big buildings, big land, big auditoriums, etc. That is no longer the case. Time is now being focused on technology, what will help modern HOWs reach their community better, and more cost effectively.
Changing consumption patterns: The experience is changing based on multi-screen viewers. On demand and digital natives expect a high quality digital experience, start to finish. And that means audio AND video AND environments like lighting. They want to consume content differently. They want instant access, they want it where they want it, and on the devices they choose to use. These patterns are definitely impacting how the industry is evolving, and will continue to evolve.
TI: How can the world connect with you? Social Media, web, email?
MW: I can be reached at mwright(at)technical-innovation(dot)com or by visiting Technical Innovation's Broadcast Solutions Group and Blue Hat Design websites. Folks can also check us out on Twitter, @TIBSG and @TIBlueHatDesign and give us a follow.
Michael's collection of guitars, basses and amps includes:
Yamaha - '70s Jumbo Acoustic
Martin - '13 Oojm Acoustic
Gretsch - '64 Tennessean
Epiphone - '08 Wildkat
Gibson - '82 Es135
Gibson - '62 Sg
Gibson - '90s Nighthawk
Gibson - '13 Les Paul Traditional
Fender - '56 Custom Shop Stratocaster
Fender - '90s American Standar Telecaster
Fender - '59 Custom Shop Relic Precision Bass
Fender - '64 American Vintage Reissue Jazz Bass
Alembic - '82 Essence Bass
Hofner - '67 500/1bass
Fender - '65 Bassman W/2x12 Showman Piggyback Cabinet
Vox - '13 Ac30
What he'd like to add:
Gibson - J160
Rickenbacker - 660/12
Gibson - Es335
Fender - Super Reverb
Marshall - Plexi W/Half Stack
About Technical Innovation's Broadcast Solutions Group
The landscape of the media business is changing at an exponential pace. Evolving business models, new technologies and a generation of TV anywhere consumers are in motion, demanding that you adapt. Technical Innovation's Broadcast Solutions Group helps broadcasters and television service providers solve their most vexing problems, helping many of the world's most influential companies develop new workflows and outsourcing solutions. TI BSG projects have enhanced companies such as NBC, Univision, Sinclair Broadcast Group, Denali Media/KTVA and PBS/Digital Convergence Alliance. They are experts at new facility programming and planning. When it's time to build, their clients come back time and again to "experience the difference" of their exclusive Jet Stream Total Program Management® approach, where they say "worry early and worry often" to ensure a successful project.