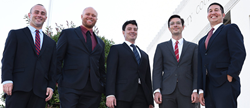 The expansion allows us to better serve the South Bay with improved convenience for our clients as we grow.
San Francisco, CA (PRWEB) November 28, 2016
Attorney Adam Cohen is proud to announce that Ticket Crushers Law, the Bay Area's premier DUI, criminal and traffic ticket defense law firm, is expanding with a new office in San Jose, CA, and was recently retained on its 2,500th case. The new office is located in the Club Auto Sport Center, 521 Charcot Ave., Suite 111. "The expansion allows us to better serve the South Bay with improved convenience for our clients as we grow," said Cohen, president and managing partner of Ticket Crushers Law.
Ticket Crushers Law is known throughout the San Francisco Bay Area for aggressively fighting traffic tickets in court. Attorney Cohen has mastered California criminal law, DUI law and the California vehicle code, securing thousands of dismissals on traffic tickets. Ticket Crushers Law is focused on increasing awareness of a new law regulating cell phone use in California vehicles (California Assembly Bill 1785) that will take effect on January 1, 2017.
"In the new year, a person will not be able to drive while holding and operating a cell phone or 'wireless electronic communication device' unless the phone or device is voice operated and hands-free," explained Cohen. "The law, however, exempts manufacturer-installed systems that are built into a vehicle."
Furthermore, Cohen noted that operating a cell phone or wireless electronic communication device while driving will be allowed if the device is mounted on the vehicle's windshield, dashboard or center console (but not blocking the driver's view); if the driver's hand is used to activate or deactivate a function or feature with a single swipe or with the finger; or if the driver is operating an emergency vehicle in the course and scope of job duties.
"Ticket Crushers Law keeps close watch on California traffic law developments to better serve the public," concluded Cohen. "We strive to help everyday people navigate our laws and courts."
About Cohen & Associates, PLC, Ticket Crushers Law
The attorneys at Cohen & Associates, PLC and its Ticket Crushers division are focused exclusively on representing clients for traffic tickets, DUI charges and criminal offenses throughout San Francisco County, CA, and the surrounding areas in Alameda County, Santa Clara County, San Mateo County, Contra Costa County, Solano County, Sonoma County, Marin County, and Napa County, CA. Ticket Crushers Law attorneys provide a free consultation on all such matters. For more information, please call (415) 275-6175, or visit http://www.ticketcrusherslaw.com.
About the NALA™
The NALA offers small and medium-sized businesses effective ways to reach customers through new media. As a single-agency source, the NALA helps businesses flourish in their local community. The NALA's mission is to promote a business' relevant and newsworthy events and achievements, both online and through traditional media. For media inquiries, please call 805.650.6121, ext. 361.