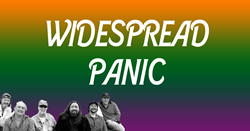 Denver, CO (PRWEB) August 25, 2014
Find the best seats for Widespread Panic right now from ticket reseller TicketFix.com.
Everybody loves surprise, that feeling of not knowing what might be around the next corner -- and that's exactly the vibe that Widespread Panic gives off every time they unleash a new album. Sometimes that means taking listeners on a nice, smooth ride, and sometimes it means making 'em hold on tight, but either way, it means the trip is gonna be worth it.
Widespread Panic tickets are currently available for all 3 nights at the 1STBank Center October 31, November 1 and November 2. Tickets can be purchased right now at http://www.ticketfix.com.
Foll​owing Summer and a few festival dates in September, the band will head back out in October with stops across the deep south, including two nights in Charleston, one in St. Augustine, Montgomery, Huntsville, Atlanta, and Biloxi. From there it will be on to Austin, Dallas, and up into the midwest from Memphis to St. Louis, Milwaukee, and overnights in Cedar Rapids and Ames.
To conclude the tour, the band's annual Halloween shows will take place (for the first time ever!) at the 1st Bank Center in Broomfield, Colorado for three nights of music.
Fans who want to save money on tickets visit TicketFix.com for the best ticket prices and selection. The website offers discount tickets for every venue along the Widespread Panic tour including the North Charleston Coliseum, St. Augustine Amphitheatre, Montgomery Performing Arts Centre, Von Braun Center Arena, Verizon Wireless Amphitheatre, Mississippi Coast Coliseum, ACL Live At The Moody Theater, Orpheum Theatre, Peabody Opera House, Riverside Theatre and tickets for many of today's most popular concert tours.
TicketFix.com is committed to excellent customer service and fast, secure shipping.
Order By Phone Toll Free
(855)855-6777
Visit the website
http://www.TicketFix.com
Note: TicketFix is not associated with any of the artists, teams, or venues mentioned in this release. Any names used are solely for descriptive purposes and do not imply any type of affiliation, partnership, or endorsement.