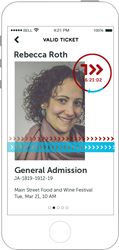 Philadelphia, PA (PRWEB) February 24, 2014
This week, Ticketleap, an organization dedicated to help more people to create and share events, launched the Selfie Ticket. The Selfie Ticket, a new way to manage event registration, eliminates the need for barcode scanning at events. Primarily for individuals, organizations and brands who want to grow and strengthen their communities, the Selfie Ticket highlights humanness, not the transaction. They are a friendly and simple way to check registrations at the door.
Launch Festival, starting today in San Francisco, is the first event to use Selfie Ticket. All registrants attending the event were prompted to create a Selfie Ticket over the weekend. Once at the event, attendees are encouraged to share a screenshot of their Selfie Ticket by using the hashtags #selfieticket and #launch.
"We're really excited about Selfie Ticket," says Tim Raybould, Ticketleap CEO. "Many of our customers simply weren't scanning the barcode tickets. They told us it just didn't feel right, that it felt too heavy handed." When barcodes aren't scanned, they provide virtually no value since a barcode can be printed from a home printer or displayed on different devices an infinite number of times. With Selfie Ticket, a quick glance is all the event organizer needs to confirm a valid ticket purchase.
The launch of Selfie Ticket comes just over a month after Ticketleap launched new event pages. With a similar goal of highlighting humanness, not the transaction, the event pages move away from a gateway for credit card transactions, to something that beautifully captures the spirit of an event. Early data shows an improvement on event page conversion of 23%.
About Ticketleap
Ticketleap is a tool to engage your community in the most effective way possible: by forming a connection with them, in person, human to human.