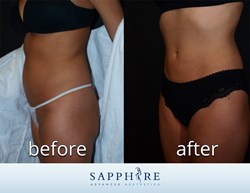 Minneapolis ,Minnesota (PRWEB) September 05, 2013
Of the many body contouring procedures, the owner ,and board certified surgeon, Dr. Smith offers at Sapphire Advanced Aesthetics a new alternative to the traditional liposuction procedure- the minimally invasive Tickle Lipo. The Tickle Lipo procedure replaces the use of heat with low frequency vibrations which will lead to a faster recovery time. Using a vibratory method over heat makes this procedure a much safer, less invasive, more comfortable, offers less tissue destruction therefore faster healing and faster visible results as compared to traditional liposuction. Not only is Tickle lipo a better and safer alternative to liposuction, it is a much more comfortable procedure. Dr. Leslie Smith is an advocate for Tickle Lipo because it's simply better –there is more control for the surgeon on a technical level which therefore will produce better results and is a safer method that can be done without general anesthesia.
Tickle Lipo has been offered at Sapphire Advanced Aesthetics since 2011 and the procedure is administered by Dr. Smith herself. She is the 1st and only board certified surgeon, female surgeon, in Minneapolis and Minnesota that offers Tickle Liposuction in Minneapolis. Dr. Leslie Smith is a very experienced body contouring surgeon. With more than a decade of experience, she is a board certified surgeon and a skin specialist. She has worked with many burn victims (the most vulnerable of our population, children and the elderly) as well as advanced and complex wound care and limb salvage, making her soft tissue surgical specialist. Dr. Smith's vast knowledge, understanding and experience working with soft tissue gives her and her staff the upper hand over other cosmetic surgeons when it comes to administering body contouring procedures.
Patients are awake during the procedure which can be as fast as 1-2 hours and will be put under local anesthesia. Dr. Smith will be assisted by her staff nurse who has over 20 years of nursing experience to ensure the patient's safety and comfort. As soon as anesthesia sets in, Dr. Smith will make very small incisions in the targeted area. Then a micro cannula will be inserted. The low frequency vibration from the cannula will break up and loosen the unwanted fat while simultaneously removing the fat from the targeted area. Again, because the fat is broken down by the vibration instead of heat, Dr. Smith will be able to effectively remove large amounts of fat eliminating uneven fat distribution.
Once the desired amount of fat is removed, the cannula will also be removed. The incisions that were made are so small that no sutures will be needed. Patients are offered a unique option of Venus skin tightening to help reduce swelling and to help with healing by improving the workings of the lymphatic system. Patients are able to resume normal daily activity within days and experience far less discomfort they would from traditional lipo procedure and will fully recover within weeks. There is no scarring from this procedure because there was no heat involved (the use of heat to remove fat causes tissue destruction). Patients are able to visibly see instantaneous results. And because Dr. Smith is able to remove more fat in the Tickle Lipo procedure, patients see results within weeks.
Body contouring is used to achieve their desired body shape at a faster rate compared to regular diet and exercise but isn't a replacement for diet and exercise. Dr. Leslie Smith and her staff at Sapphire Advanced Aesthetics are here to help their patients reach their goal body shape and to educate them on proper diet and exercise so they can maintain their new body shape and live a healthy life. An improved appearance has helped many of her patients with their self-esteem. The team has found it to be a rewarding experience following the patients through their journey of pre and post body contouring.