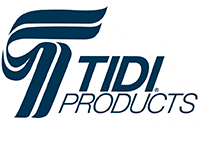 Zero-Gravity™ radiation protection shields permit freedom of movement, easy engagement and disengagement, all while maintaining sterility
Neenah, WI (PRWEB) April 08, 2016
TIDI Products, LLC, a leading manufacturer of clinically differentiated, single-use, infection-prevention products, today announced its participation in the American Association of Occupational Healthcare Nurses (AAOHN) 2016 National Conference, at the Hyatt Regency, in Jacksonville, Florida, from April 11-14, 2016.
AAOHN is the primary association for healthcare professionals dedicated to enhancing employee safety and reducing healthcare costs. Each year, thousands of nurse practitioners, clinicians, and educators, researchers, and managers gather at the event to learn about new best practices in managing occupational and environmental health and safety. AAOHN 2016 attendees benefit from continuing education, industry networking, and vendor interaction.
Each and every TIDI Product offering is uniquely manufactured to reduce healthcare worker risk. To assist occupational and environmental health and safety professionals in gaining greater compliance, performance, and protection, TIDI will showcase an array of cutting-edge solutions in the AAOHN 2016 Exhibit Hall (Booth #101). TIDI will introduce and feature the Zero-Gravity™ product line during the event. Zero-Gravity suspended radiation protection products provide greater coverage and convenience compared to traditional products. Zero-Gravity shields permit freedom of movement, easy engagement and disengagement, all while maintaining sterility. TIDI also will feature the TIDIShield® Grab 'n Go™ Eye Shields in a point-of-use dispenser at the event. TIDIShield single-use protective eyewear also deliver greater coverage and convenience. By placing TIDIShield Grab 'n Go Eye Shields wherever gloves or masks are available, occupational and environmental health and safety managers can help reduce worker infection transmission risk via conjunctiva.
AAOHN 2016 attendees may learn more about the TIDI Products infection-prevention solution portfolio by visiting Exhibit Hall Booth #101, immediately inside the hall entrance, through Thursday, April 14th. Additional information about Zero-Gravity and TIDIShield eyewear also is available at http://www.TIDIProducts.com.
About TIDI Products, LLC
TIDI Products, LLC is a leading global manufacturer of innovative, single-use, infection-prevention products and unique, safety-improving interventional equipment. TIDI is committed to supporting caregivers and preventing infections in hospitals, clinics, dental offices, and other healthcare environments. The TIDI Product portfolio ranges from exam table paper, patient capes and gowns, dental bibs, curing light sleeves, intra-oral camera covers, and sterile C-Arm drapes; to protective eyewear, gowns, masks and gloves for staff; to securement products for catheters and other devices. For more information, please visit http://www.TIDIProducts.com or follow us on Facebook, Twitter, LinkedIn, and YouTube.
CFI Medical, manufacturer of the Zero-Gravity product line, is now part of TIDI Products.