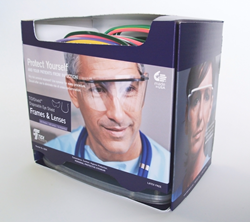 Easily accessible disposable eyewear is vital in supporting nursing staff occupational health and safety
Neenah, WI (PRWEB) March 25, 2015
TIDI Products, LLC, a leading manufacturer of clinically differentiated, single-use, infection-prevention products, today announced the presentation of important scientific research at the annual meeting of the American Association of Occupational Health Nurses (AAOHN) in Boston, Massachusetts.
AAOHN (http://www.aaohn.org) is a professional association of approximately 6,000 occupational and environmental health nurses, nurse clinicians, and nursing managers. The group is dedicated to enhancing hospital worker health and safety by reducing workplace risks—and costs—connected with hazards, illness, and injury. The 2015 annual gathering, occurring March 23rd-26th, has featured a series of clinical presentations aimed at improving nurse health and safety.
One such presentation, "Infectious Disease Transmission via Conjunctiva: Occupational Contamination Risk & The Role of Eyewear," reviewed the harsh reality of conjunctiva—eyes—as a source of healthcare and hospital associated infection (HAI) risk. The presentation, delivered by Victor R. Lange on March 24, 2015, detailed how misinformed protocols and choices in personal protective equipment (PPE) can directly affect nursing wellness and hospital exposure.
Mr. Lange's remarks were based on a clinical study he conducted. His research revealed that reusable PPE, meant to protect hospital workers, actually can increase cross contamination and infection risk. Lange's study found that harmful pathogens remained on 74.4 percent of reusable eyewear even after disinfection. [1] In other words, nearly 75% of reusable eyewear remained a source of infection risk following decontamination.
"Reusable eyewear, or eyewear with reusable components, may pose a risk of carrying ongoing bioburden, due to an inability to disinfect all surface details, and thereby may increase risk to operating room healthcare workers and patients," determined Lange.
Infection transmission via conjunctiva is proven and contamination can be present without a known spray or splash event. Infectious agents can be introduced to the eye via splash or spray, or by touching the eye with contaminated fingers or objects. Protocols suggest eyewear be used based on anticipated exposure, and then be discarded or promptly decontaminated. However, risk is not always evident, disinfection unreliable, and PPE can be contaminated in the course of care. A simple solution is the use of single-use, disposable eyewear which, in all cases, reduces the risk—and ongoing HAI costs. Lange also suggests eyewear be used whenever bodily fluids are present, regardless of the anticipated risk.
"TIDI Products is dedicated to reducing healthcare worker infection risk through product innovation and clinical education. Easily accessible disposable eyewear is vital in supporting nursing staff occupational health and safety," stated TIDI Products Chief Commercial Officer Mark Beran. TIDIShield™ single-use eyewear protects eyes from spray and splatter, reduces risk of cross contamination, and is readily available at point-of-use with the TIDI TowerTM, a proprietary dispensing system designed to encourage enhanced compliance. The TIDIShield™ EyeSplash Zero™ program enables eye-splash prevention through nurse education, process improvement, and best-practice products, resulting in heightened risk awareness, reduced risk exposure, and greater PPE compliance. To learn more about TIDI Products and the TIDIShield EyeSplash Zero program, visit http://go.tidiproducts.com/eyesplash-zero-program-information.
[1] Lange VR, "Eyewear contamination levels in the operating room: Infection Risk," Am J Infect Control. 2014 Apr; 42(4):446-447.
About TIDI Products, LLC
TIDI Products, LLC is a leading U.S. manufacturer of single-use, infection-prevention products. TIDI is committed to supporting caregivers and preventing infections by producing innovative infection-control products and services designed to create value for hospitals, clinics, physician offices, dental offices and other environments where infection control is critical. TIDI's single-use products range from exam table paper, patient capes and gowns, dental bibs, curing light sleeves, intra-oral camera covers, to personal protection equipment (PPE) for providers such as protective eyewear, gowns, masks and gloves, to securement products for catheters and other devices. For more information, please visit http://www.tidiproducts.com or follow us on LinkedIn, YouTube, Facebook and Twitter.