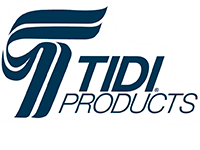 Every occupational health professional I met at the event said they've faced an eye splash incident and every single one is interested in finding a way to achieve better compliance"
Neenah, WI (PRWEB) September 16, 2014
TIDI Products, LLC, a leading manufacturer of clinically differentiated, single-use, infection-prevention products, today announced the successful launch of its TIDIShield™ EyeSplash Zero™ process improvement program at the 2014 National Conference of the Association of Occupational Health Professionals in Healthcare (AOHP) in New Orleans, Louisiana. The innovative EyeSplash Zero program directly tackles dangers associated with healthcare worker eye-splash infection risk via expert-driven clinical education and best-practice process implementation.
AOHP is a national professional organization dedicated to the health, safety, and well-being of healthcare workers. Thousands of occupational health professionals working in healthcare environments are members of AOHP in order to best address occupational hazards in healthcare and to advocate for newer, safer processes. The annual AOHP gathering began September 10, 2014 and continued through September 13, 2014.
At the event, hundreds of 2014 AOHP National Conference attendees benefitted from over 40 evidence-based education sessions targeted at improving healthcare worker safety, increasing efficiencies, and decreasing costs. Best-practice processes and solutions were presented, evaluated, and shared by experts in the field and product manufacturers.
It is scientifically proven that potentially life-threatening infectious pathogens transfer via eye conjunctiva. Because the breadth and severity of eye-infection risk is underrated in healthcare settings, most healthcare organizations unknowingly put staff at risk of infection transmission. Enhanced protocols and solutions are essential to improved compliance and risk reduction. TIDI Products is leading the charge in eye-infection risk education.
TIDI Vice President William Sever remarked, "The AOHP conference was a very informative and significant event. Literally, every occupational health professional I met at the event said they've faced an eye splash incident and every single one is interested in finding a way to achieve better compliance." Sever continued, "They were impressed with the TIDIShield Grab 'n Go eyewear dispensing system and many now are keenly interested in using the TIDIShield EyeSplash Zero process improvement program as a means to reduce eye-related infection risks and the trauma to the caregiver associated with such events."
For additional clinical information regarding eye-related infection risks, for more information about the TIDIShield eyewear dispensing systems, or to request free solution samples, please visit http://www.TIDIProducts.com.
TIDI Products will attend the American Society for Healthcare Risk Management (ASHRM) Annual Conference from October 26-29, 2014 in Anaheim, California. A relevant clinical presentation on eye-related infection risks in operating-room environments will be given at the OR Manager Conference, September 18, 2014, in Long Beach, California.
About TIDI Products, LLC
TIDI Products, LLC is a leading U.S. manufacturer of single-use, infection-prevention products. TIDI is committed to supporting caregivers in preventing infections by producing innovative infection-control products for hospitals, clinics, dental offices and other environments where infection control is critical. TIDI's single-use products range from exam table paper, patient capes and gowns, dental bibs, curing light sleeves, intra-oral camera covers, to personal protection equipment (PPE) for providers such as protective eyewear, gowns, masks and gloves, to securement products for catheters and other devices. Our company's mission is to support caregivers in preventing infections. For more information, please visit http://www.tidiproducts.com or follow us on Facebook, Twitter, LinkedIn and YouTube.
###