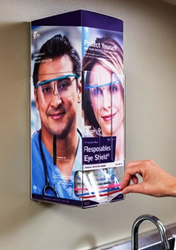 By placing the TIDI Tower next to mask and glove stations, hospitals can better protect staff.
Neenah, WI (PRWEB) June 26, 2015
TIDI Products, LLC, a leading manufacturer of clinically differentiated, single-use, infection-prevention products, today announced its participation in APIC 2015 (http://ac2015.site.apic.org/), the 42nd Annual Conference of the Association for Professionals in Infection Control and Epidemiology (APIC), taking place June 27-29, 2015 at Music City Center in Nashville, TN. 5,000 clinical, industry, and public health experts are expected to attend.
APIC 2015 is the premier learning event for practitioners in infection control and epidemiology. Attendees garner the knowledge of evidence-based advances in infection prevention by listening to presentations, participating in workshops, and browsing exhibits related to research, technology, and education. This year's event, "Infection Prevention: Live on Stage," will be particularly focused on moving science to practice and showcasing best-practice implementations.
Non-sharp blood and body fluid eye exposures are the most common form of occupational infectious-disease pathogen exposure and among the most risky. To better address infection prevention requirements and occupational health and safety needs, TIDI Products will showcase the TIDI Tower™, a proprietary dispensing system designed to mount at point-of-use for easy access to protective eyewear. Each dispenser contains 25 fully assembled TIDIShield® Grab 'n Go™ Disposable Eye Shields. By placing the TIDI Tower next to mask and glove stations, hospitals can better protect staff. The TIDI Tower is ideal for use in operating and emergency rooms, labor and delivery, and intensive care and burn units.
TIDI Products is located in Booth #832 in the exhibitor area. The "TIDI APIC Selfie Contest" encourages APIC 2015 attendees to take a picture with the TIDIShield Grab 'n Go Disposable Eye Shields and post it on social media using the hashtag #TIDIAPIC2015 to enter for a chance to win a $100 gift card. More about the TIDIShield Grab 'n Go Disposable Eye Shield is available online at http://www.TIDIProducts.com.
The TIDIShield Registered Trademark is property of TIDI Products, LLC. All Rights Reserved.
About TIDI Products, LLC
TIDI Products, LLC is a leading U.S. manufacturer of single-use, infection-prevention products. TIDI is committed to supporting caregivers in preventing infections by producing innovative infection-control products for hospitals, clinics, dental offices and other environments where infection control is critical. TIDI's single-use products range from exam table paper, patient capes and gowns, dental bibs, curing light sleeves, intra-oral camera covers, to personal protection equipment (PPE) for providers such as protective eyewear, gowns, masks and gloves, to securement products for catheters and other devices. Our company's mission is to support caregivers in preventing infections. For more information, please visit http://www.tidiproducts.com or follow us on Facebook, Twitter, LinkedIn and YouTube.
###