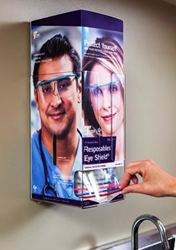 TIDI Products is dedicated to reducing healthcare worker infection risk through product innovation and clinical education
Neenah, WI (PRWEB) June 30, 2015
TIDI Products, LLC, a leading manufacturer of clinically differentiated, single-use, infection-prevention products, today announced the successful presentation of important scientific data and best-practices information at a private event occurring June 27, 2015 in Nashville, Tennessee. The event, "The Unprotected Eye—Unaware, Underrated, Underreported," detailed the realities and risks associated with healthcare worker conjunctiva exposure as well as offered process and protocol improvement suggestions regarding protective eyewear use.
Non-sharp blood and body-fluid (BBF) eye exposures are the most common form of occupational infectious-disease pathogen exposure…and among the most risky. Infection transmission via conjunctiva is proven and contamination risk is present without a known spray or splash event. Most acute-care environments are under-informed about the realities of conjunctiva risk, exposing staff to serious, even life-threatening infections, and hospitals to associated financial risk. Scores of infection-control practitioners gathered at the historic Hermitage Hotel in Nashville to learn more.
Attendees heard from Dr. Amber Hogan Mitchell, President & Executive Director of the International Safety Center (http://www.InternationalSafetyCenter.org), an independent, non-profit dedicated to improving healthcare worker safety through data collection and analysis. Using Exposure Prevention Information Network® (EPINet) statistics, Dr. Mitchell described infections and illnesses that can be spread through splashes, sprays, and touches to the eyes; detailed exposure rates and circumstances; and reviewed recommendations and standards for protective eyewear use. Recent EPINet data revealed that 61.6 percent of all BBF exposures are to the eyes and 76 percent of skin exposures are to the face and head, however only 7.4 percent of instances involve appropriate eye-exposure protection.
Attendees also received an overview of the hazards associated with improper use of eyewear and reusable eyewear, as well as of strategies to improve compliance and reduce risk, based on the efforts of Victor R. Lange, Director of Infection Prevention & Control as well as Quality & Risk Management for Promise Hospital of San Diego. In a recent study, Mr. Lange found that nearly half of all eyewear worn was contaminated with harmful pathogens, whether a known contamination event occurred or not, and that contamination remained on 74.4 percent of reusable eyewear even after disinfection (Lange VR, "Eyewear contamination levels in the operating room: Infection Risk," Am J Infect Control. 2014 Apr; 42(4):446-447). Mr. Lange is implementing the TIDIShield® EyeSplash Zero™ process improvement program to educate workers and heighten disposable eyewear use. To date, 15 eye splashes have been prevented via the program.
"TIDI Products is dedicated to reducing healthcare worker infection risk through product innovation and clinical education. Easily accessible, situation appropriate, disposable eyewear, along with broader knowledge of the realities of conjunctiva exposure, is vital in supporting staff occupational health and safety," stated TIDI Products Chief Commercial Officer Mark Beran." TIDIShield single-use eyewear protects eyes from spray and splatter, reduces risk of cross contamination, and is readily available at point-of-use with the TIDI TowerTM, a proprietary dispensing system designed to enhance compliance. The TIDIShield EyeSplash Zero program enables eye-splash prevention through staff education, process improvement, and best-practice product implementation. To learn more, visit http://www.TIDIProducts.com.
The TIDIShield Registered Trademark is property of TIDI Products, LLC. All Rights Reserved.
About TIDI Products, LLC
TIDI Products, LLC is a leading U.S. manufacturer of single-use, infection-prevention products. TIDI is committed to supporting caregivers in preventing infections by producing innovative infection-control products for hospitals, clinics, dental offices and other environments where infection control is critical. TIDI's single-use products range from exam table paper, patient capes and gowns, dental bibs, curing light sleeves, intra-oral camera covers, to personal protection equipment (PPE) for providers such as protective eyewear, gowns, masks and gloves, to securement products for catheters and other devices. Our company's mission is to support caregivers in preventing infections. For more information, please visit http://www.tidiproducts.com or follow us on Facebook, Twitter, LinkedIn and YouTube.
###