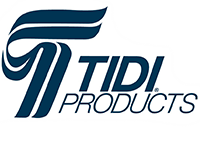 By working together to better protect providers and patients, we improve our ability to cut infection risks and allow caregivers the ability to focus energies on patient care.
Neenah, WI (PRWEB) October 09, 2014
TIDI Products, LLC, a leading manufacturer of clinically differentiated, single-use, infection-prevention products, today announced the launch of the TIDIShield™ Assemble 'n Go family of Disposable Eye Shields and Face Shields for dental markets at the American Dental Association (ADA®) Meeting in San Antonio, Texas.
The ADA is the nation's largest dental association, representing more than 157,000 members, and is the leading source of information for the industry. The annual gathering, in 2014 deemed "America's Dental Meeting," began today and continues through October 14, 2014. Thousands of industry participants attend the event for continuing education and to learn first-hand about best-practice processes, products, and solutions. TIDI Products, an exhibitor at the event, is leading the charge in eye-infection risk education, assisting the industry in reducing healthcare worker risk, increasing operational efficiencies, and decreasing associated costs.
It is scientifically proven that life threatening infectious pathogens transfer via conjunctiva. Often, contamination occurs without an apparent event. Healthcare workers, including dental practitioners, are unaware of an aerosol splash or spray, or of airborne droplets, and thus also are unaware of contact contamination risk. According to the Occupational Health and Safety Administration (OSHA), lack of proper eye protection is a primary reason for eye injury and infection transmission in healthcare settings, including in dental practices. Clinical research has shown that dental environments are at particularly high risk for cross contamination and a dentist's face is at high risk for infection transmission. [1]
Protective eyewear is vital, yet the quality of eyewear is as vital as its use. In a recent clinical study, seventy-five percent of reusable eyewear carried bioburden post decontamination. [2] Disposable eyewear eliminates cross-contamination risk between patients, reduces infection risk to staff, and eradicates the need for eyewear sterilization time. However, even some disposable eyewear—based on design and fit—falls short in the infection prevention task. The risk of eye-related infection is significantly underrated; therefore, most healthcare environments, including dental environments, put staff at risk. Improved understanding, protocols, and products are essential to heightened compliance and risk reduction.
In coordination with clinical research and dental professionals, TIDI Products now offers a family of eyewear options that provides heightened protection and easy access at an affordable cost. The TIDIShield Assemble 'n Go family of disposable Eye Shields and Face Shields features comfortable, lightweight, wrap-around designs that deliver both front and side eye protection as well as optical grade anti-glare lenses. In addition, following a recent clinical evaluation, the TIDIShield line of eyewear was named an Editor's Choice award winner by Dental Advisor. [3]
TIDI Products Vice President William Sever remarked, "The ADA conference is a unique opportunity for industry professionals to learn from each other. By working together to better protect providers and patients, we improve our ability to cut infection risks and allow caregivers the ability to focus energies on patient care. We invite attendees to our booth [#3317] to learn more about the newest addition to our infection prevention line, the TIDIShield eye and face protection line." For those interested, TIDI Products will host a special informational session for event attendees and media representatives from 1:30p to 3:00p Central, Thursday, October 9, 2014, at Booth #3317 in the ADA Exhibit Hall, located in the Henry B. Gonzalez Convention Center in San Antonio, Texas.
For additional information regarding eye-related infection risks, for more information about the TIDIShield family of products, or to request free solution samples, please visit http://www.TIDIProducts.com.
[1] Neiatidanesh, F, " Risk of contamination of different areas of Dentist's Face During Dental Practices," Int J Prev Med. 2013 May;4(5):611-615.
[2] Lange VR, "Eyewear contamination levels in the operating room: Infection Risk," Am J Infect Control. 2014 Apr; 42(4):446-447.
[3] More about the award will be published in the October issue of Dental Advisor (available online at http://www.dentaladvisor.com).
About TIDI Products, LLC
TIDI Products, LLC is a leading U.S. manufacturer of clinically differentiated, single-use, infection-prevention products. We are committed to developing innovative solutions for hospitals, clinics, dental and physician offices, and other medical environments where infection control is critical. Our single-use products range from dental bibs, curing light sleeves, intra-oral camera covers, medical exam table paper, and patient capes and gowns; to personal protection equipment for caregivers, such as protective eyewear, gowns, masks and gloves; to securement products for catheters and other devices. Our company's mission is to support caregivers in preventing infections. For more information, please visit http://www.tidiproducts.com or follow us on Facebook, Twitter, LinkedIn and YouTube.
###
Media Contact: William Sever, Vice President, TIDI Products, (920) 284-8511, wsever(at)tidiproducts.com