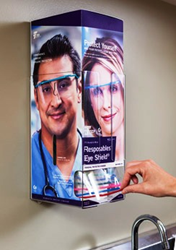 TIDI Products will demonstrate the benefits of increased attention to eye-related infection risks.
Neenah, WI (PRWEB) September 30, 2015
TIDI Products, LLC, a leading manufacturer of clinically differentiated, single-use, infection-prevention products, today announced its participation in ENA 2015, the annual conference of the Emergency Nursing Association, occurring at the Orange County Convention Center in Orlando, Florida through October 3, 2015.
ENA (http://www.ena.org) is dedicated to advancing emergency nursing as a role, regardless of site, through education, advocacy, and representation. With over 40,000 members in over 35 countries, and safe practices and safe care at the forefront of the ENA mission, ENA 2015 is a centralized, expert resource for learning, sharing, and networking. ENA 2015 features a number of novel efforts, including combined leadership and annual conferences in a single comprehensive event as well as a new interactive, educational, "mock" emergency department in the Exhibit Hall.
As part of exhibition efforts, TIDI Products will demonstrate the benefits of increased attention to eye-related infection risks. Non-sharp blood and body fluid exposures to the eye are the most common form of occupational, infectious-disease, pathogen exposure—and also among the most risky. Splashes and sprays into conjunctiva can be scary, costly, and even deadly, yet eye infection risks are easily preventable. Many emergency environments remain under-informed about conjunctiva infection transmission realities; therefore, many emergency nurses remain unnecessarily at risk.
At ENA 2015, TIDI Products will showcase the TIDI Tower™, a proprietary eyewear dispensing system designed to mount at point-of-use for easy access to single-use, protective eye shields. Each dispenser contains 25 fully assembled TIDIShield® Grab 'n Go™ Disposable Eye Shields. By placing the TIDI Tower next to mask and glove stations, emergency departments can more simply and effectively protect staff as well as reduce overall infection risk. The TIDI Tower is ideal for use in emergency and operating rooms, surgical suites, labor and delivery areas, and intensive care and burn units.
TIDI Products also will showcase the TIDIShield™ EyeSplash Zero™ Program, an innovative process improvement program designed to diminish the dangers emergency room nurses and other hospital and urgent-care healthcare workers face on a daily basis. Using professionally developed, turn-key awareness, education, and prevention tools, EyeSplash Zero program implementation helps reduce the number of eye-splash incidents occurring during the course of patient care, leading to improved best practices, reduced risk exposure, and greater PPE compliance.
To learn more about the TIDI Tower, TIDIShield Grab 'n Go Disposable Eye Shields, and the TIDIShield EyeSplash Zero program, visit TIDI Products in the ENA 2015 Exhibit Hall at Booth #1247. Exhibition hours begin at 3:15pm on September 30th and continue through 1:15pm on October 2nd. More information also is available online at http://www.TIDIProducts.com/wp-content/uploads/2015/01/Tower-Dispenser-Sell-Sheet.pdf and http://eyewear.tidiproducts.com/eyesplash-zero.
The TIDIShield Registered Trademark is property of TIDI Products, LLC. All Rights Reserved.
About TIDI Products, LLC
TIDI Products, LLC is a leading U.S. manufacturer of single-use, infection-prevention products. TIDI is committed to supporting caregivers in preventing infections by producing innovative infection-control products for hospitals, clinics, dental offices and other environments where infection control is critical. TIDI's single-use products range from exam table paper, patient capes and gowns, dental bibs, curing light sleeves, intra-oral camera covers, to personal protection equipment (PPE) for providers such as protective eyewear, gowns, masks and gloves, to securement products for catheters and other devices. For more information, please visit http://www.tidiproducts.com or follow us on Facebook, Twitter, LinkedIn, and YouTube.
###