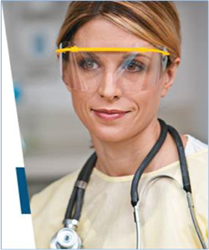 "Reusable eyewear...may pose a risk of carrying ongoing bioburden, due to an inability to disinfect all surface details, and thereby may increase risk to operating room healthcare workers and patients"
Neenah, WI (PRWEB) December 23, 2014
TIDI Products, LLC, a leading manufacturer of clinically differentiated, single-use, infection-prevention products, today highlighted the publication of an important interview article in the December 2014 issue of OR Manager. The piece, "Reusable protective eyewear tied to greater risk of contamination," offers substantive reasoning to support the use of disposable eyewear in operating environments.
OR Manager is a vital source of clinical information and best practices for surgical suite management, covering subjects that include infection prevention and control, occupational health and safety, patient safety, and regulatory standards. The December 2014 issue interviews nationally recognized Infection Preventionist Victor R. Lange, who has published and presented the results of a clinical study assessing eyewear contamination levels post use…and post disinfection.
Lange's work reveals reusable protective eyewear, meant to protect healthcare workers from infection contamination, actually can increase cross contamination and infection risk. "Reusable eyewear, or eyewear with reusable components, may pose a risk of carrying ongoing bioburden, due to an inability to disinfect all surface details, and thereby may increase risk to operating room healthcare workers and patients," determined Lange.
Infection transmission via conjunctiva is proven and contamination can be present without a known spray or splash event. Infectious agents can be introduced to the eye via splash or spray, or by touching the eye with contaminated fingers or objects. Protocols suggest protective eyewear be used based on anticipated exposure, and then be discarded or promptly decontaminated. However, risk is not always visible, disinfection unreliable, and eyewear can be touched during the course of care. The use of disposable eyewear, therefore, in all cases, reduces the risk. Lange also suggests eyewear be used whenever bodily fluids are present, regardless of the anticipated risk.
"TIDI Products is dedicated to reducing infection risk through product innovation and clinical education. Easily accessible disposable eyewear is vital in supporting healthcare worker occupational health and safety," stated TIDI Products Chief Commercial Officer Mark Beran." TIDIShield™ single-use eyewear protects eyes from spray and splatter, reduces risk of cross contamination, and is readily available at point-of-use with the TIDI Tower, a proprietary dispensing system designed to encourage enhanced compliance.
Learn how to reduce splash and spray incidents with the TIDIShield EyeSplash Zero™ process improvement program by visiting http://eyewear.tidiproducts.com/eyesplash-zero-program-information. The OR Manager article is at http://www.ormanager.com/2014/12/16/reusable-protective-eyewear-tied-to-greater-risk-of-contamination/#.VJGquoBABh. The initial study report is available in the American Journal of Infection Control at http://www.ajicjournal.org/article/S0196-6553(13)01331-X/abstract.
About TIDI Products, LLC
TIDI Products, LLC is a leading U.S. manufacturer of single-use, infection-prevention products. TIDI is committed to supporting caregivers in preventing infections by producing innovative infection-control products for hospitals, clinics, dental offices and other environments where infection control is critical. TIDI's single-use products range from exam table paper, patient capes and gowns, dental bibs, curing light sleeves, intra-oral camera covers, to personal protection equipment (PPE) for providers such as protective eyewear, gowns, masks and gloves, to securement products for catheters and other devices. Our company's mission is to support caregivers in preventing infections. For more information, please visit http://www.tidiproducts.com or follow us on LinkedIn, Facebook and Twitter.