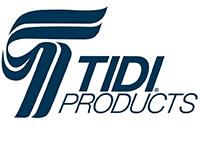 By placing single-use TIDIShield® Grab 'n Go™ Eye Shields wherever gloves or masks are available, occupational health and safety staff can help reduce infection transmission risk via conjunctiva
Neenah, WI (PRWEB) September 23, 2016
TIDI Products, LLC, a leading manufacturer of clinically differentiated, single-use, infection-prevention products, today cited the presentation of important scientific research at the 2016 OR Manager Conference, occurring September 21-23, 2016, at the Caesars Palace Convention Center, in Las Vegas, Nevada. The annual conference, presented by OR Manager, gathers operating room, perioperative, and other surgical-suite managers, directors, and administrators in an effort to enhance efficiency and safety in healthcare operating environments. The 2016 event has featured a series of presentations offered to help reduce occupational exposure risk.
One such presentation, "Quantifying Occupational Risk in the OR from Blood and Body Fluid Splashes," reviews hospital worker risks associated with mucocutaneous blood/body fluid exposures (BBFEs). The findings, presented by Dr. Amber Hogan Mitchell, President and Executive Director of the International Safety Center, are founded in data reported by 30 US hospitals from 2012-2014. Using statistics from the Center's Exposure Prevention Information Network (EPINet®), Dr. Mitchell quantified hospital BBFEs affecting eye conjunctiva. Dr. Mitchell also quantified eye-protection use across hospital departments, compared to the OR only. Dr. Mitchell found BBFEs increased in all hospital departments, including in the OR, while eye-protection use simultaneously decreased. Dr. Mitchell notes that the data illustrates occupational risk is increasing at a time when disease threats are high. One positive finding is that, as a percentage of total facility exposures, those in the OR are declining for all BBFEs, and for eyes only. Dr. Mitchell concludes healthcare workers remain at occupational risk, yet health systems may learn from protection strategies implemented in the OR.
Another presentation, "Interdepartmental Collaboration to Reduce Conjunctiva Exposure Risk: Process Improvement to Increase Awareness and Enhance Compliance," demonstrates the clear value of system-wide education and advanced protocols in reducing infection risk via eye exposure. Victor R. Lange, Director of Infection Prevention at Alta Hospital Systems in Los Angeles, educated staff in multiple departments at Promise Hospital of San Diego about the realities of eye-related infection risk and then tested the efficacy of new, best-practice, prevention strategies in reducing exposure. According to Lange, EPINet data reveals more than 60% of reported BBFEs occur to conjunctiva and greater than 90% occur without proper eye protection. With improved processes adopted—including pre-task risk review and mask- and glove-level eyewear access (in Surgery, Med-Surg, Intensive Care, Cardio-Pulmonary, Engineering, and Environmental Services units)—Mr. Lange tracked a 100% reduction in eye splashes compared to the prior 12 months, as well as 15 splash "saves" in the first 90 days alone. Mr. Lange said collaboration among Infection Prevention, Occupational Health, Nursing Education, and Executive Management, along with use of appropriate protective equipment, can virtually eliminate eye exposure risk, reduce facility infection transmission risk, and improve overall healthcare worker safety.
TIDI Products' offerings are uniquely designed to help define and protect the sterile field, and to help reduce and prevent infection risk to surgical staff and patients. To assist OR professionals in gaining greater compliance, performance, and protection, TIDI Products is showcasing a wide array of its infection-prevention solution portfolio at the 2016 OR Manager Conference. Among others, TIDI Products will feature its patented Sterile-Z™ back-table covers and patient drapes, C-Armor® equipment drapes, and TIDIShield® Grab 'n Go™ Eye Shields in a convenient, point-of-use dispenser. By placing single-use TIDIShield Grab 'n Go Eye Shields wherever gloves or masks are available, occupational health and safety staff can help reduce infection transmission risk via conjunctiva. OR Manager Conference attendees may learn more about the TIDI Products portfolio and participate in valuable discussions and demonstrations by visiting TIDI Products in the Caesars Palace Convention Hall Forum Ballroom, Booth #1246. Additional information about TIDI Products also is available online at http://www.TIDIProducts.com.
About TIDI Products, LLC
TIDI Products, LLC is a leading global manufacturer of innovative, single-use, infection-prevention products and unique, safety-improving interventional equipment. TIDI is committed to supporting caregivers and preventing infections in hospitals, clinics, dental offices, and other healthcare environments. The TIDI Product portfolio ranges from exam table paper, patient capes and gowns, dental bibs, curing light sleeves, intra-oral camera covers, and sterile C-Arm drapes; to protective eyewear, gowns, masks and gloves for staff; to securement products for catheters and other devices. For more information, please visit http://www.TIDIProducts.com or follow us on Facebook, Twitter, LinkedIn, and YouTube.
CFI Medical, manufacturer of the Sterile-Z and C-Armor product lines, is now part of TIDI Products.