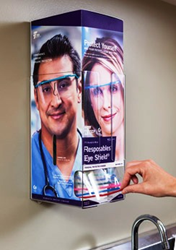 TIDI Products is dedicated to reducing healthcare worker infection risk and to increasing staff compliance through product innovation and clinical education
Neenah, WI (PRWEB) October 19, 2015
TIDI Products, LLC (http://www.TIDIProducts.com), a leading manufacturer of clinically differentiated, single-use, infection-prevention products, today announced the presentation of innovative data affecting healthcare risk management at the annual meeting of the American Society for Healthcare Risk Management (ASHRM) in Indianapolis, Indiana.
The 35th ASHRM Conference and Exhibition (http://www.ashrm.org/education/annual_conference2015/index.dhtml) continues through October 21, 2015. In addition to more than 70 educational sessions and keynote speakers, this year's event includes a New Innovation Center that features ASHRM member success stories in decreasing or eliminating preventable serious safety events, decreasing or eliminating hospital-acquired conditions and readmissions, improving quality, enhancing patient safety, and implementing "Just Culture" innovations.
One such electronic presentation, "Infectious Disease Transmission via Conjunctiva: Occupational Contamination Risk & The Role of Eyewear," reviews the harsh reality of conjunctiva—eyes—as an under-addressed source of healthcare worker infection risk. The presentation, by Victor R. Lange, Director of Infection Prevention & Control and Quality & Risk Management of Promise Hospital of San Diego, details how misinformed protocols and choices in personal protective equipment (PPE), specifically in eyewear, can directly affect healthcare worker health, safety, and well-being.
Mr. Lange's findings are based on a study and a process improvement program he implemented. His research revealed that reusable eyewear—meant to protect healthcare workers—actually can increase cross-contamination and infection risk. Lange found that harmful pathogens remained on 74.4% of reusable eyewear—following disinfection—making reusable eyewear an ongoing source of infection risk. Reusable eyewear, or eyewear with reusable components, may pose a risk of carrying ongoing bioburden, due to an inability to effectively disinfect all surface details, and thereby may increase risk to healthcare workers and patients, determined Lange.
Eye-related infection transmission is proven and contamination risk can be present without a known event. Infectious agents can be introduced to the eye via an imperceptible splash or spray, or by touching the eye with contaminated fingers or objects, such as reused eyewear. Most in-place protocols suggest eyewear be used based on anticipated exposure, and then be discarded, or decontaminated, promptly. However, risk is not always evident, disinfection can be unreliable, and environments and materials, including all types of PPE, can be unknowingly contaminated in the course of care. Lange suggests appropriate, single-use, disposable eyewear be used whenever body fluids are present and whenever masks or gloves are worn. When Lange implemented a multi-departmental program enabling as much, over a 90-day monitoring period, exposure incidents were cut by 100% and 15 splashes and sprays were prevented.
"TIDI Products is dedicated to reducing healthcare worker infection risk and to increasing staff compliance through product innovation and clinical education. Easily accessible, effective disposable eyewear especially is vital in supporting nursing staff occupational health and safety," stated TIDI Products Chief Commercial Officer Mark Beran.
TIDIShield™ single-use eyewear protects eyes from spray and splatter, reduces risk of cross contamination, and is readily available at point-of-use with the TIDI TowerTM, a proprietary dispensing system designed to encourage enhanced compliance. The TIDIShield™ EyeSplash Zero™ program enables eye-splash prevention through nurse education, process improvement, and best-practice products, resulting in heightened risk awareness, reduced risk exposure, and greater PPE compliance.
To learn more about the TIDI Tower, TIDIShield Grab 'n Go Disposable Eye Shields, and the TIDIShield EyeSplash Zero program, visit TIDI Products in the 2015 ASHRM Exhibit Hall Booth #229. TIDI Products is unveiling the new "Horton Hears a Who" brand TIDI Tower at the 2015 ASHRM event. For more information online, see TIDI Tower (http://www.TIDIProducts.com/wp-content/uploads/2015/01/Tower-Dispenser-Sell-Sheet.pdf) and EyeSplash Zero (http://eyewear.tidiproducts.com/eyesplash-zero).
The TIDIShield registered trademark is property of TIDI Products, LLC. TIDI Tower and Grab 'n Go are trademarks of TIDI Products, LLC. All Rights Reserved. Horton Hears a Who is trademark of Dr. Seuss Properties and registered trademark of Dr. Seuss Enterprises. All Rights Reserved.
About TIDI Products, LLC
TIDI Products, LLC is a leading U.S. manufacturer of single-use, infection-prevention products. TIDI is committed to supporting caregivers in preventing infections by producing innovative infection-control products for hospitals, clinics, dental offices and other environments where infection control is critical. TIDI's single-use products range from exam table paper, patient capes and gowns, dental bibs, curing light sleeves, intra-oral camera covers, to personal protection equipment (PPE) for providers such as protective eyewear, gowns, masks and gloves, to securement products for catheters and other devices. For more information, please visit http://www.tidiproducts.com or follow us on Facebook, Twitter, LinkedIn, and YouTube.
###