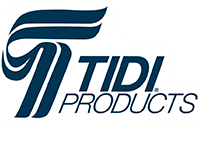 Premier is a key partner in fulfilling our commitment to supporting caregivers and preventing infections
Neenah, WI (PRWEB) December 15, 2016
TIDI Products, LLC, a leading manufacturer of clinically differentiated, single-use, infection-prevention products, has been awarded a group purchasing agreement for disposable eyewear and procedure masks (under the Surgical and Isolation Masks contract category) with Premier Inc. Effective January 1, 2017, the new agreement allows Premier members, at their discretion, to take advantage of special pricing and terms pre-negotiated by Premier for a range of personal protective eyewear products.
Regarding the contract award, TIDI Products President and Chief Executive Officer Kevin McNamara said, "Premier is a key partner in fulfilling our commitment to supporting caregivers and preventing infections. We especially are pleased that our easy-to-access protective eyewear solution is now available to Premier members."
TIDI Products' offerings are uniquely designed to help defend and protect the sterile field, along with helping to reduce and prevent infection risk to staff and patients. TIDIShield® Grab 'n Go™ Eye Shields, in a convenient, point-of-use dispenser, help enhance staff compliance and safety. By placing single-use TIDIShield Grab 'n Go Eye Shields wherever gloves or masks are available, healthcare staff can help reduce eye-splash exposures and infection transmission risk.
Customers may order the products included in the Premier Inc. purchasing agreement from their current authorized distributor. Additional information about TIDI Products also is available online at http://www.TIDIProducts.com.
Premier is a leading healthcare improvement company, uniting an alliance of approximately 3,750 U.S. hospitals and 130,000 other providers to transform healthcare. With integrated data and analytics, collaboratives, supply chain solutions, and advisory and other services, Premier enables better care and outcomes at a lower cost.
About TIDI Products, LLC
TIDI Products, LLC is a leading global manufacturer of innovative, single-use, infection-prevention products and unique, safety-improving interventional equipment. TIDI is committed to supporting caregivers and preventing infections in hospitals, clinics, dental offices, and other healthcare environments. The TIDI Product portfolio ranges from exam table paper, patient capes and gowns, dental bibs, curing light sleeves, intra-oral camera covers, and sterile C-Arm drapes; to protective eyewear, gowns, masks and gloves for staff; to securement products for catheters and other devices; to radiation protection capital and consumable products. For more information, please visit http://www.TIDIProducts.com.
Contact:
Mora Brinkman, Sr. Communications Manager, TIDI Products, (920) 279-3259, mbrinkman(at)TIDIProducts(dot)com