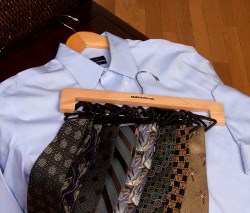 The birthday boy won't be able to argue with its functionality.
Portland, Oregon (PRWEB) August 26, 2013
The Original Necktie Butler is a website that sells tie racks of a unique and revolutionary design, and they just released a new blog about why these racks make good gifts.
"Great birthday presents for men are hard to come by," one of the writers says. "Whether it's for your son, husband, boyfriend, or father, it's never easy to know what they will like."
You can view the products by clicking here.
The blog says that tie racks are classic gifts. It says that even if the birthday boy doesn't see a current need for the rack because they don't have a job that requires them to wear a tie, that you can accompany the rack with a resume for them to get a job that does require one. The blog says you can frame it as a gift to help them make more money. "And who doesn't want more money," the writer says.
The blog explains that most men have at least a small inventory of ties that they have built up over time. "They may wear them to church, on dates, or to parties. And those without a tie rack are often left to stuff their ties in a drawer, roll them up on top of a dresser, or hang them on a regular hanger. All of those options fail in comparison to having a simple organizer to hang ties on in a responsible way."
The site also has a testimonials page where most of the Necktie Butler owners speak primarily to the supreme functionality of the tie rack.
"Now I have much better access to my ties and I'm enjoying more ease in grabbing the tie that I pick out," said Nick from Washington.
Cindy from Missouri bought the necktie rack as a birthday gift for her son. She said, "I am happy to say that it has created a much more pleasant living environment as there are no ties laying around now. Each one has a happy home on the tie rack."
Mike from Iowa also left a review. He said, "I recently purchased your product after my battery powered tie rack stopped working. I wish I would have purchased your product a long time ago. Simple and practical. Thanks for a great product."
The Necktie Butler comes in two different colors. There is a lighter wood and chrome option called the Natural Original which sells for $29.99. For $2 extra there is a more popular, darker wood and brass option called the Walnut Dandy.
Shipping is free for all residents within the United States.
Purchasing on The Necktie Butler website is secured through GoDaddy. PayPal, Visa, MasterCard, and American Express are all accepted forms of payment.
The blog says that you could try getting the man in your life a birthday gift like shoes, clothes, cologne, or a wallet, but chances are they will end up complaining about it. The writers say you should stick with a sensible tie rack; the birthday boy won't be able to argue with its functionality.