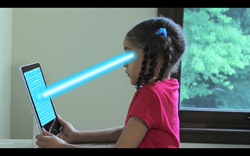 We wanted outrageous, interesting and compelling content to showcase the easiest, step-by-step instructional aid.
Rehoboth Beach, DE (PRWEB) January 29, 2014
alotta.edu, inc. reveals the most amazing alien helps human encounter since ET met Drew Barrymore. In their new video, Mary, an adorable 7-year old girl, is saved from an emotional meltdown by a band of heroic, hip-hop aliens responding to her anguished, intergalactic plea for help. Filled with heart, humor and glorious special effects, the video shows hero alien EZ using a specially modified iPad equipped with the latest Tie Your Shoes! App, and helping Mary conquer her shoelaces.
Farfetched? You betcha - but Carter, a Wharton MBA from the University of Pennsylvania, developed the video after his app went unnoticed for 18 months in the Apple app Store. In an effort to spread awareness of their effective app, alotta.edu, inc. is proud to present a new promotional video, available on the app's Web site at http://www.tieyourshoesez.com/. He felt the need to leverage alotta.edu, inc.'s creative streak to get make more people aware of his app.
"I always wanted to be one in a million," says Carter, "until it meant one in a million at the app store, buried in obscurity in the bottom 99%. That distinction became a problem and we had to fix it."
Previous marketing efforts produced negligible results. alotta.edu, inc. is confident Tie Your Shoes is the best way for parents, teachers and grandparents to teach children how to tie their shoes, but that wasn`t enough to excite reviewers and app buyers.
"Our app is truly a better mousetrap," says Carter. "It has custom buttons – unlike any other app, book or instructional aid - which delivers unprecedented control of the step-by-step process. This creates a learning environment that is tailored to each child and it gives each child the ability to focus on those steps that need the most attention. No other teaching tool provides this exacting control at every step."
Out of frustration Carter decided to do something unconventional to further engage his target audience of mothers, grandmothers and educators equipped with iPhones and iPads. He began a quest to find people who understood his concept and could capture it on video. Carter tapped Ryan Sellers, a 2013 Art Institute graduate to direct. "Ryan had great ideas from the start," says Carter. "We combined our visions to bring this video to life."
"YouTube presented the perfect promotional medium and we did something "out of this world" for parents and teachers. I hope my alien attack goes viral and helps parents and teachers find an easier solution to teaching kids this important life skill," says Carter.
Key Features of the Tie Your Shoes! app:

Step-by-step video clips that isolate each and every step
Repetition controls that make repeating and advancing step-by-step easy to do
Eye popping, high contrast videos to make all movements easy to understand and mimic
Clear verbal instructions to reinforce images in the videos
An animated game called "The Race" because all work and no play is not a fun day
Pricing and Availability: Tie your Shoes! is available for the iPhone and iPad in the Apple iTunes Store for 99 cents.
alotta.edu, inc. is a company started in 1995 by Claude B. Carter after graduating from the Wharton School, University of Pennsylvania. The company focuses on emerging trends and the opportunities they present.