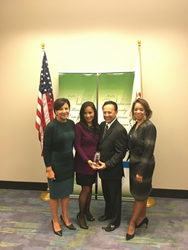 "This is an extraordinary honor to be recognized for excellence in our business community. It is motivation to continue my life's work to give back, support and empower entrepreneurs for long-term success" - Bruce Geier, CEO
San Diego, CA (PRWEB) October 26, 2016
Today, Technology Integration Group (TIG) was awarded Minority Technology Firm of the Year by the U.S. Department of Commerce's Minority Business Development Agency (MBDA). This prestigious honor took place during the 2016 National Minority Enterprise Development (MED) Week in partnership with the National Minority Supplier Development Council (NMSDC) Conference in Chicago, where Secretary of Commerce, Penny Pritzker addressed the audience and visited with award recipients. Bruce Geier, Founder & CEO, received the award on behalf of the TIG team and encouraged his peers to mentor and help develop new MBEs.
MED Week is an annual week-long observance led by MBDA that honors the achievements and leadership of minority-owned firms, organizations and individuals from across the nation. Since 1983, every president has issued a Presidential Proclamation designating a National Minority Enterprise Development Week to recognize the contributions of the minority business community to the U.S. economy. President Barack Obama proclaimed October 23 through October 29, 2016, as Minority Enterprise Development Week and called upon all Americans to celebrate this week with appropriate programs, ceremonies, and activities to recognize the many contributions of our Nation's minority enterprises. The annual NMSDC Conference and Business Opportunity Exchange attracts more than 6,000 corporate CEOs, procurement executives, entrepreneurs, influencers, business leaders, and supplier diversity professionals from the top multinational companies, international organizations and minority firms. TIG is one of 19 organizations, businesses, and individuals who have demonstrated leadership, commitment and excellence in advancing the minority business community.
"This is an extraordinary honor to be recognized for excellence in our business community. It is motivation to continue my life's work to give back, support and empower entrepreneurs for long-term success", said Bruce Geier, CEO of Technology Integration Group. A critical component of TIGs diversity strategy is to identify and utilize diverse businesses with complimenting core capabilities and geographical presence to TIG. The Small Business Alliance Program (TAP) is designed to onboard and nurture a quality pool of certified diverse businesses with the intent to partner with them on future government and corporate opportunities.
To view the 2016 MED Week Presidential Proclamation, visit MED Week Presidential Proclamation.
About TIG
TIG is a premier ISO 9001:2008 certified, full-service IT systems integrator with 34 years of experience providing end-to-end technology and IT infrastructure solutions in 70 countries. In addition to the company's headquarters in San Diego, TIG has 25 offices located in Albuquerque, Atlanta, Denver, Eugene, Honolulu, Indianapolis, Irvine, Fort Walton Beach, Knoxville, Las Vegas, Livermore, Los Angeles, Pensacola, Philadelphia, Portland, Richmond, Sacramento, San Antonio, San Francisco Bay Area, Seattle, Tampa, Ottawa &Toronto Canada and Shanghai China. For more information, visit http://www.tig.com