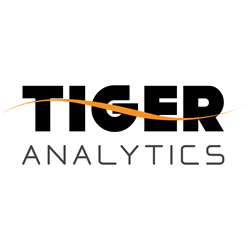 "Data is the fuel enabling the digital disruption of every industry today. At Tiger, we have continued to reinforce our focus on building deep domain knowledge, industry specific solutions, and world-class talent in AI & data science.", Mahesh Kumar, CEO, Tiger Analytics
SANTA CLARA, Calif., and CHENNAI, India (PRWEB) October 10, 2019
Tiger Analytics, a leading AI & advanced analytics consulting firm, today announced that it has been honored in the 38th annual Inc.5000, the most prestigious ranking of the US' fastest growing private companies. It marks the second year in a row that Tiger Analytics is part of this elite list.
The 2019 Inc. 5000 rankings are based on a three-year growth rate. Tiger Analytics attributes its 296% growth to its deep focus on solving high-complexity, high-value problems of strategic importance to clients, using AI & data science. The company has also developed industry-specific project accelerators and solutions for insurance, consumer goods, retail, and financial services businesses that reduce project execution time significantly and this has resonated very well in the market.
Tiger Analytics' CEO Mahesh Kumar says, "Data is the fuel enabling the digital disruption of every industry today. At Tiger, we have continued to reinforce our focus on building deep domain knowledge, industry specific solutions, and world-class talent in AI & data science. We have stood true to our commitment of delivering value to our customers by helping them monetize their data. Hence clients trust us with their most complex problems. We are excited about the momentum and are energized by the confidence the market has shown in us."
Mahesh adds, "We have also recently hired Kishor Gummaraju, a well-recognized digital transformation thought leader, as our Chief Customer Officer. In this role Kishor will help clients construct and execute their AI strategy to thrive in a fast-changing world."
"The companies on this year's Inc. 5000 have followed so many different paths to success," says Inc. editor in chief James Ledbetter. "There is no single course you can follow or investment you can take that will guarantee this kind of spectacular growth. But what they have in common is persistence and seizing opportunities."
Complete results of the Inc. 5000, including company profiles and an interactive database that can be sorted by industry, region, and other criteria, can be found at http://bit.ly/2OtD2lO.
The Inc. 5000 list represents a unique look at the most successful companies within the American economy. Microsoft, Dell, Domino's Pizza, Pandora, Timberland, LinkedIn, Yelp, Zillow, and many other well-known names gained their first national exposure as honorees on the Inc. 5000.
About Tiger Analytics - Tiger Analytics specializes in building AI and data science solutions that enable enterprises to generate business value from data. The company brings deep expertise in marketing science, customer analytics, operations analytics, and risk analytics, and is a trusted partner for several Fortune 500 companies.
For more, visit https://www.tigeranalytics.com and https://www.linkedin.com/company/tiger-analytics/
About Inc. Media - Founded in 1979 and acquired in 2005 by Mansueto Ventures, Inc. is the only major brand dedicated exclusively to owners and managers of growing private companies, with the aim to deliver real solutions for today's innovative company builders. For more information on Inc. and the Inc. 5000 Conference, visit http://conference.inc.com/.