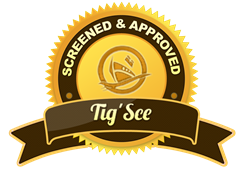 TigSee.com is an excellent choice for travelers opting for niche, luxury, offbeat experiences. Travelers can create personalized holidays by working directly with pre-screened tour operators who provide their personal care, attention and native expertise.
Seattle, WA (PRWEB) June 09, 2015
TGSy, LLC launches TigSee.com (https://tigsee.com), a vacation planning platform through which travelers can choose hand-picked boutique tour operators to create their own personalized, adventurous and inspiring vacation experiences. With a platform designed to showcase the online reputation and trust score of tour operator businesses, travelers can communicate with Tig'See recommended and pre-screened tour operators for an authentic holiday experience with confidence.
"In this noise filled world, travelers looking for authentic and emotionally satisfying experiences benefit from a curated set of first-class local boutique tour operators who can personalize vacation experiences by providing personal care, attention and their native expertise." says Saravanan (Saro) Gunaseelan, CEO and Founder of TGSy, LLC. "Tig'See's (https://tigsee.com) vacation planning platform is an excellent choice for travelers opting for niche, luxury or offbeat experiences, With Tig'See, our travelers can create a variety of authentic experiences from a culinary vacation in Italy, cooking with real chefs in real kitchens, meeting with artisan cheese & wine makers or a cultural vacation with Moroccan Bedouins, explore the Saharan Sand Dunes, visit remote villages amidst Kasbah ruins and more."
With the rising influence of a digitally connected world, travelers now have access to real life experiences and opinions about what their next holiday can be. Life style magazines, blogs, social media, review sites, and Travel Channel shows have become sources of inspiration for holiday travel. Tig'See's travel platform (https://tigsee.com) empowers travelers to create their most personalized, authentic experiences by communicating directly with pre-screened tour operators. Tig'See pre-screens tour operators for expertise and reputation, which provides confidence in travelers to work with them and leverage their expertise to save time in vacation planning and research.