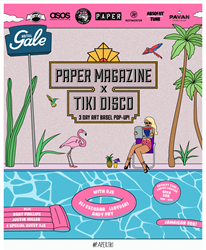 From fashion mavens to nightlife impresarios, this party attracts a unique mix of personalities with one thing in common – they all know how to have fun.
Miami, FL (PRWEB) December 03, 2013
In celebration of the annual Art Basel show in Miami Beach, iconic indie cultural guide PAPER Magazine, alongside Perrier® Sparkling Natural Mineral Water and fashion and lifestyle website Refinery29, are bringing the hot Brooklyn summer party Tiki Disco to South Beach for an epic 3 day pop-up club. The highly anticipated bash will kick off with an opening night celebration on Thursday, December 5. The festivities will take place on the roof of the historic and newly renovated Gale Hotel. Additional event partners include ABSOLUT TUNE®, ASOS and Pavan Liqueur.
From fashion mavens to nightlife impresarios, this party attracts a unique mix of personalities with one thing in common – they all know how to have fun. The relaxed yet upbeat party will bring a strong Brooklyn vibe straight to Miami with a rotating set of amazing DJs, including resident Tiki Disco DJ's Eli Escobar, Andy Pry and Lloydski and guest DJs Justin Miller and Rory Phillips on hand to supply the tunes for the pop-up event.
About PAPER: Over 29 years of experience has made PAPER one of the most credible, authentic and organic brands in the business. As a style leader, PAPER aims to explore pop culture just beyond the scope of the mainstream in order to expose our readers to the groundbreaking ideas that will influence the trends of tomorrow. PAPER is an indispensible style, cultural and entertainment guide catering to our highly influential audience. For the past 29 years, PAPER has been a main source for those leading a lifestyle that revolves around music, fashion, nightlife and the arts.
About Perrier® Sparkling Natural Mineral Water: For over a century Perrier has collaborated with some of the world's most famous and distinguished artists, including Andy Warhol, Salvador Dali and Bernard Villemot. Perrier was first bottled in the south of France in 1863. Perrier® is an all-natural, sugar-free and calorie-free sparkling natural mineral water. With its refreshingly unique bubbles and low mineral content, Perrier® is perfect on its own, with a slice of lemon, or mixed with juices or spirits. The iconic green bottle is recognized around the world as the number one sparkling natural mineral water.
About Refinery29: Refinery29, the largest independent fashion and style website in the United States and the fastest growing media company on the 2013 Inc. 500 list, delivers nonstop inspiration to live a more stylish and creative life. In addition to its global and local newsletter editions and 24/7 original editorial content, Refinery29 connects readers with content, commerce, and community, giving them all the tips, tricks, and tools they need to live a more beautiful life – and share it with the world. For more information and to browse content, visit http://www.Refinery29.com.
About ABSOLUT: ABSOLUT VODKA has been committed to developing innovative flavors since the introduction of ABSOLUT PEPPAR in 1986, its first flavored vodka. Since then, ABSOLUT has continued to bring a unique twist to common flavors with products such as ABSOLUT® MANDRIN®, ABSOLUT® CITRON, ABSOLUT® KURANT®, ABSOLUT® VANILIA, ABSOLUT® RASPBERRI, ABSOLUT® APEACH®, ABSOLUT® RUBY RED, ABSOLUT® PEARS, ABSOLUT® MANGO, ABSOLUT® BERRI ACAI, ABSOLUT® WILD TEA, ABSOLUT® ORIENT APPLE, ABSOLUT® GRAPEVINE and ABSOLUT© CHERRYKRAN.
About ASOS: ASOS is a global online fashion and beauty retailer selling over 60,000 branded and own label products to fashion forward twenty-somethings. We offer free delivery and free returns shipping to over 190 countries. We tailor the mix of private-label, global and local brands sold through each of our eight local language websites: UK, USA, France, Germany, Spain, Italy, Australia, Russia and China with 65% of our sales now coming from outside the UK. ASOS.com attracts 21.3 million unique visitors a month, has 13.2 million registered users* and 7 million active customers**. We connect with our customers across a wide range of social media channels including 2.5m on Facebook, 514k on Twitter and 2.2m on Google+. *As at 31 August 2013 **Defined as having shopped in the last 12 months. Website: http://www.asos.com
About Pavan Liqueur: Named after the classic 16th century dance of the peacock, Pavan is crafted with fine Muscat grapes from the renowned AOC (Appellation d'Origine Contrôlée) region of Frontignan, where vineyards are surrounded by seaside air and gentle hills. Long exposure to the sun and proximity to the sea provide the perfect conditions for the Muscat vines to thrive, producing small berries that are naturally sweet and rich in aromas. The Muscat grapes are handpicked, pressed and blended with fine grape- based spirits. The "vin de liqueur" is then aged two to three years in oak casks dating back to the 19th century, allowing the blend to mature slowly while retaining the original aromas and freshness of the grape. Finally, the Muscat "vin de liqueur" is blended with a touch of fine orange blossoms from the Mediterranean. This infusion gives Pavan its aromatic citrus notes and characteristic freshness. For more information visit: pavan-liqueur.com.