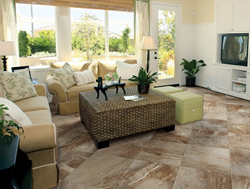 An ANSI water penetration rating of .5% or lower is the closest thing there is to a legal definition of porcelain in the US, but this has little or nothing to do with the historical roots of the term.
(PRWEB) June 05, 2014
HomeThangs.com – the Online Home Improvement Store has made their goal to deliver the right product to the consumer. With that in mind, shopping and home design tips, as well as special product selections are being introduced.
When it comes to buying ceramic tile, there's more than a little confusion of terms, particularly the distinction between ceramic and porcelain tile. There's a reason for this: the word "porcelain" has been used to refer to many different types of tile throughout history and in different parts of the world, and manufacturers might be using any or none of those definitions for any given type of tile. HomeThangs.com has introduced a guide to understanding what the two terms really mean.
Broadly speaking, porcelain is a type of ceramic tile – both are made from roughly the same materials, but only some ceramic tile is considered to be porcelain. The problem is, "porcelain" isn't a regulated term in the US, so any manufacturer can label any ceramic tile as porcelain, regardless of its actual quality. Since the word "porcelain" often accompanies a higher price tag, it's important to look deeper at the qualities and certifications of the tile to see if the higher price is really worth it.
Historically, the term porcelain has been used to describe very light or white tile that's made from clay that has a very low iron content, but this definition has become somewhat out dated for a variety of reasons. First, a light colored glaze can be placed on any type of tile; once it's installed, the actual material the tile is made of will be invisible, meaning very dark tile can look like white porcelain. Color is obviously more important with unglazed tile, and light, unglazed tile will often be called porcelain. But the term "porcelain" is also often applied to unglazed tile that's denser and the same color throughout. This type of "through body" porcelain tile can be any color, though, as the main selling point is that the consistent coloration makes chips and other minor damage less visible.
More recently, the term porcelain has been used to refer to ceramic tile that is of a higher quality. This claim is also a bit dubious, as again there's no legal definition, standards, or requirements for the term. That said, tile that's fired longer and at a higher temperature is much more durable than tile that's fired for a shorter amount of time at a lower temperature. Higher temperatures allow the tile to undergo a more thorough vitrification, a process which makes tile harder, more dense, more durable, and much more water resistant. Highly vitrified, or vitreous tiles are often referred to as porcelain, but don't depend on the label to tell.
The best indicator of how dense and vitrified a tile is is the ANSI rating for its resistance to water penetration. This rating is determined by weighing dry tile, then boiling and soaking it in water and re-weighing it to determine how much water the tile has absorbed. The more vitrified the tile, the more water resistant it is, and the lower this number will be. Tile with a .5% or lower water penetration rating is probably the closest thing there is to a legal definition of porcelain in this country, as the ANSI will certify these tiles as "porcelain" and allow this certification to appear on the label.
The durability of ceramic and porcelain tile is indicated by two different ratings: the PEI rating for surface wear and the Mohs rating for hardness. The packaging of any individual type of tile might have one or the other, both, or neither, depending on how the manufacturer has them tested. The PEI rating measures how well the tile holds up to everyday wear and tear, while the Mohs scale is a rating that's used more generally to determine the relative hardness of minerals, and how easily they can be scratched. For both, higher numbers represent harder, more durable surfaces, but tiles that are called ceramic or porcelain can fall anywhere on either of these scales.
Last but not least is a tile's slip rating, which includes how slippery tile is both when dry and when wet. All tile, regardless of labels, should have a COF (Coefficient of Friction) rating which measures how readily objects slide across the tile. The higher the number, the less slippery the tile will be, with .6 as a bare minimum for slip safety.
To find out more about the distinction between different types of tile, as well as what features to look for, check out the full article here.
HomeThangs.com is not only a home improvement superstore, it also provides expert design tips and a comprehensive shopping guide, taking the ideas from professional interior designers, and offering tips to the consumers on how to pick the products to best suit their needs.